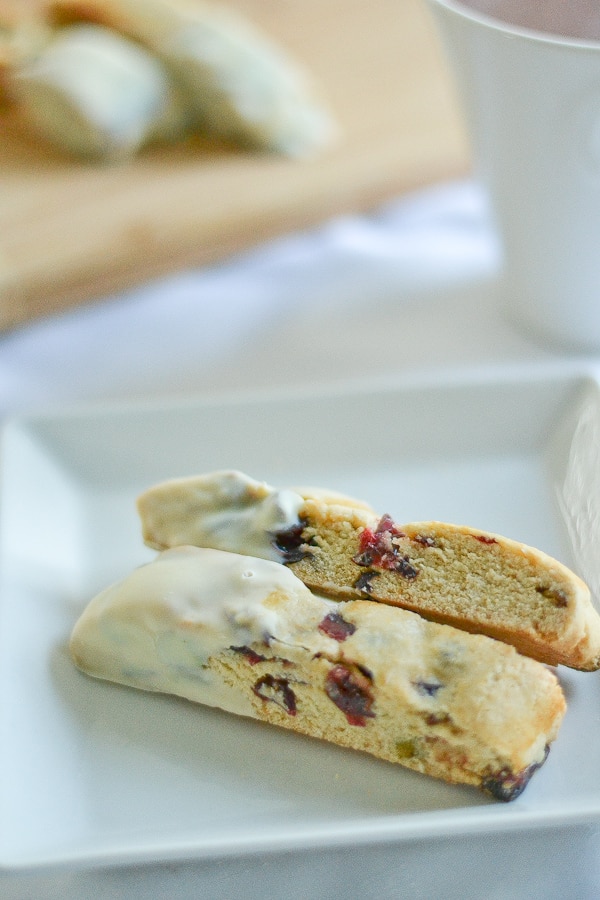 It's that season again when people bake goodies to share with family and friends. I am no exception; I have started baking on the weekend. This year, I have been trying new recipes, one of which were these cranberry pistachio biscotti dipped in white chocolate. I have a former co-worker who always brings different kinds of biscotti to work for treat day and even gave them away as Christmas presents. I used to admire and at the same time envy her baking skills in making biscotti. I never thought I would be able to make delicious biscottis just like hers. I am glad I've tried; it was crunchy and delicious. My husband enjoyed his with a cup of coffee. These popular twice-baked Italian cookies are also good with hot chocolate. Indulge!

Cranberry Pistachio White Chocolate Biscotti
Ingredients
½ cup butter, softened
1 cup granulated sugar
2 eggs
1 tsp vanilla
2-1/2 cups all-purpose flour
2 tsp baking powder
¼ tsp salt
1 cup shelled pistachio nuts
1 cup dried cranberries
1 egg white
10 oz white chocolate, chopped and melted
Instructions
In large bowl, beat butter with sugar until fluffy; beat in eggs, 1 at a time. Beat in vanilla. In a separate bowl, whisk together flour, baking powder and salt; add to butter mixture in 2 additions, stirring just until combined. Add pistachios and cranberries; mix well.
Divide dough in half. On lightly floured surface, shape each into 12-inch X 2 ½- inch rectangle. Place, 2 inches apart, on parchment paper–lined baking sheet; press to flatten slightly. Combine egg white with 1 tsp water; liberally brush over tops of biscotti.
Bake in 325ºF oven until light golden and just firm to the touch, about 30 minutes. Let cool on pan on rack for 10 minutes.
Transfer logs to cutting board. Using chef's knife, cut diagonally into ½-inch thick slices. Place cut side down, about ½ inch apart, on baking sheet. Bake in 300ºF oven until almost dry, about 35 minutes. Transfer to rack; let cool completely.
Dip 1 end of each biscotti in white chocolate, letting excess drip off. Place on waxed or parchment paper–lined baking sheet; refrigerate until chocolate is set, about 20 minutes.
Notes
Recipe Source: Canadian Living: Holiday 2012