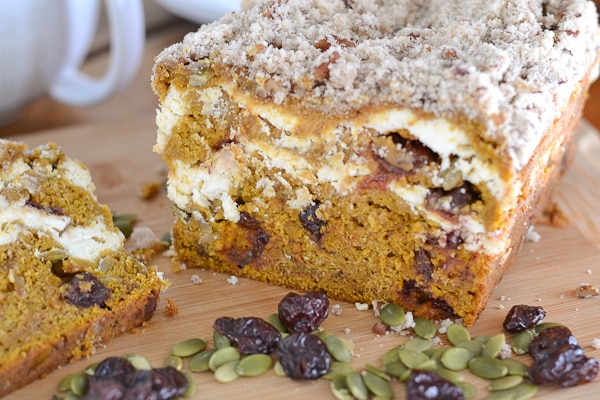 I made pumpkin and cream cheese muffins over the weekend. My family loved it so much that I decided to make this similar treat. While the muffins I made had basic and simple ingredients, this pumpkin bread is packed full of the natural goodness of fresh ginger, pumpkin seeds and dried cherries. I love the crunchy and nutty crumb topping of the muffins, so I decided to use it on the bread as well. The cream cheese in the middle made this pumpkin bread decadent and popular with my family. It was soft, moist and loaded with flavor. My husband and I enjoyed slices of this wonderful pumpkin bread with a cup of our favorite green tea. Indulge!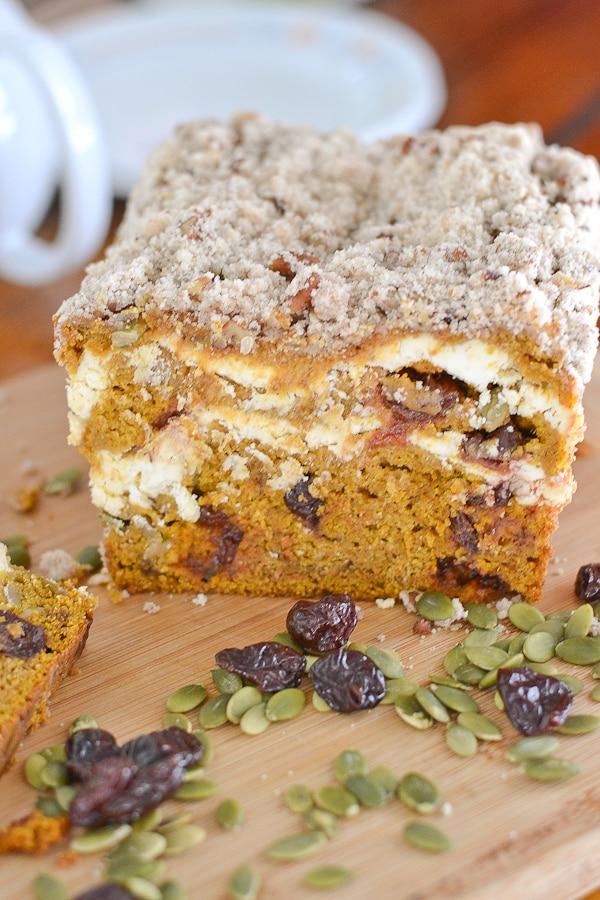 Cream Cheese Filled Pumpkin Bread
Ingredients
2 cups whole-wheat flour
1 teaspoon baking soda
1 teaspoon ground cinnamon
¼ teaspoon ground dry ginger
½ teaspoon kosher salt
1⅓ cups packed dark brown sugar
⅓ cup canola or vegetable oil
1 ¾ cups canned pumpkin puree (not pie filling)
2 large eggs, divided
1 teaspoon grated fresh ginger
½ cup toasted pumpkin seeds
1 cup dried cherries
12 ounces cream cheese, room temperature
2 tablespoons granulated sugar
For the streusel:
½ cup all-purpose flour
5 tablespoons granulated sugar
¼ cup pecans, roughly chopped
3 tablespoons unsalted butter, room temperature
½ teaspoons ground cinnamon
Instructions
Heat the oven to 350 °F. Coat a large (9- to 10-inch) loaf pan with baking spray.
In a medium bowl, whisk together the flour, baking soda, cinnamon, dry ginger and salt.
In a large bowl, whisk together the brown sugar, oil, pumpkin, 1 egg and the fresh ginger. Add the dry ingredients to the wet, and then using a fork, mix until just combined. Stir in the pumpkin seeds and cherries. Spread half of the batter evenly over the bottom of the prepared loaf pan. Set aside.
In a medium bowl, mix together the remaining egg, the cream cheese and sugar. Spread half of the cream cheese mixture evenly over the batter in the pan. Spread half of the remaining batter over it, and then top that with the remaining cream cheese filling. Finish with a final layer of batter. Set aside.
To make the streusel, in a medium bowl use your fingers to rub together the flour, sugar, chopped pecans,butter and cinnamon. Sprinkle evenly over the loaf.
Bake for about 1 hour, or until a toothpick inserted at the centre comes out clean. Cool for 30 minutes, then remove from the pan and cool completely before slicing.