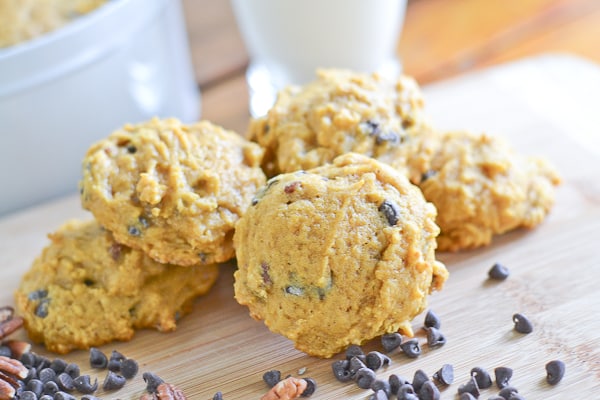 I made these pumpkin cookies to use left-over pumpkin puree I used to make pumpkin bread. I used mini chocolate chips and chopped pecans and bake them for 14 minutes. The result was gorgeous looking and delicious pumpkin cookies. I shared some with my co-workers and some comments were, "It was very good", "It's not too sweet", "The texture was similar to muffins". Indeed, they were soft, moist and really delicious. Enjoy!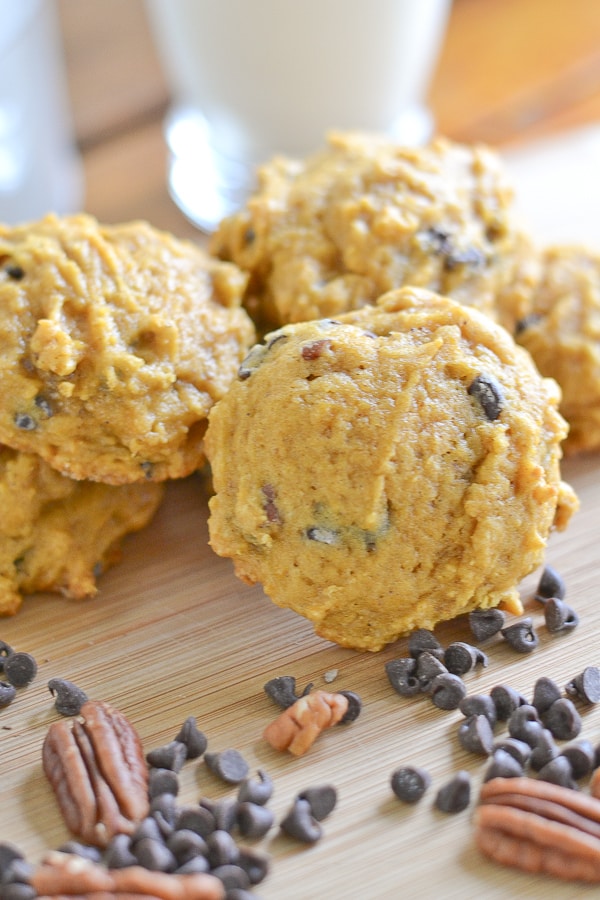 Pumpkin Chocolate Chip Cookies
Ingredients
½ cup unsalted butter, room temperature
1½ cups sugar
1 cup canned pure pumpkin (not pie filling)
1 egg, beaten
1 teaspoon vanilla
2½ cups all purpose flour
1 teaspoon baking soda
1 teaspoon baking powder
1 teaspoon cinnamon
½ teaspoon ground nutmeg
½ teaspoon salt
½ cup mini chocolate chips
½ cup chopped nuts or ½ cup raisins (optional)
Instructions
Preheat oven to 350 ° F. Grease baking sheets with butter or spray with Pam.
In a large mixing bowl, cream butter with sugar until fluffy. Stir in pumpkin, egg and vanilla.
In a separate bowl, sift together flour, baking soda, baking powder, cinnamon, nutmeg and salt.
Add dry ingredients to butter mixture, stirring well to combine. Stir in chocolate chips and nuts or raisins, if using. Drop batter by spoonfuls on to baking sheets.
Bake for 12-15 minutes or until browned. Cool on rack.
Notes
Recipe slightly adapted: Bon Appetit (November 1986)