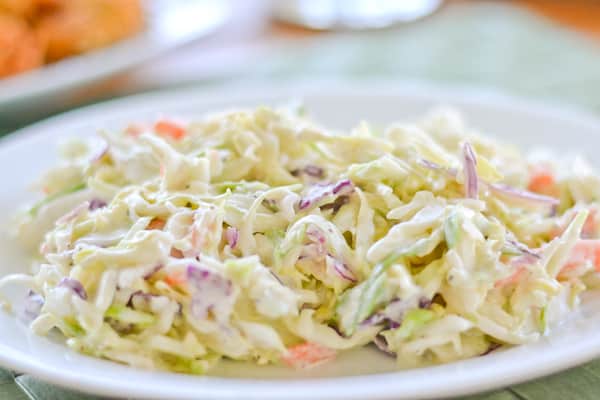 Coleslaw is my favorite side dish for fried chicken and fried seafood like fish, oyster and squid. There's this fish and chips place where we used to live that serves delicious coleslaw. We still go there whenever we crave for fish and chips. I have tried to recreate their coleslaw and this recipe is the closest that I can get to. It is a fast and simple salad to make and I made it even easier by using a store bought coleslaw mix. If you desire, you can dress it up by adding sunflower seeds and raisins. Now, I have to make my favorite dish to go with it… deep fried oyster. 😀

Creamy Coleslaw
Ingredients
1 (14oz) bag coleslaw mix
Salted sunflower seeds (optional)
Raisins (optional)
Dressing
½ cup mayonnaise
¼ cup sour cream
1 tablespoon sugar
2 teaspoons lemon juice
2 teaspoons Dijon mustard
½ teaspoon celery seed
¼ teaspoon salt
¼ teaspoon pepper
Instructions
Mix all ingredients for the dressing in a large bowl. Add the coleslaw mix and sunflower seeds and raisins, if using; toss until evenly coated.
Cover with a plastic wrap and refrigerate for at least one hour to blend flavors.
Toss again before serving with your favorite sandwich or fried chicken/seafood.
Enjoy!
Notes
Recipe source: Betty Crocker.com