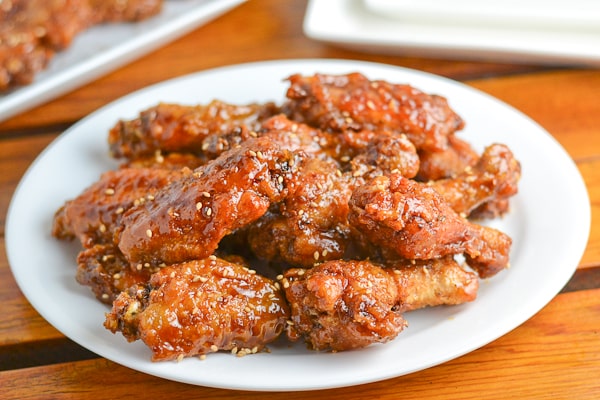 This Korean version of fried chicken wings is now my family's favorite fried wings recipe. Crispy and crunchy on the outside and juicy on the inside, that's how I would describe this awesome dish. The wings were simply seasoned with grated ginger, salt and pepper and then rolled in potato starch. They were then fried not only once but twice to get that crispy and crunchy texture. They were afterwards coated with a sauce made of olive oil, garlic, soy sauce, honey, vinegar, mustard and brown sugar. The result was sticky, crispy, crunchy, sweet and finger-licking good wings. I have already made this twice for my family and every time, I was praised for cooking the best wings recipe they ever had. Enjoy!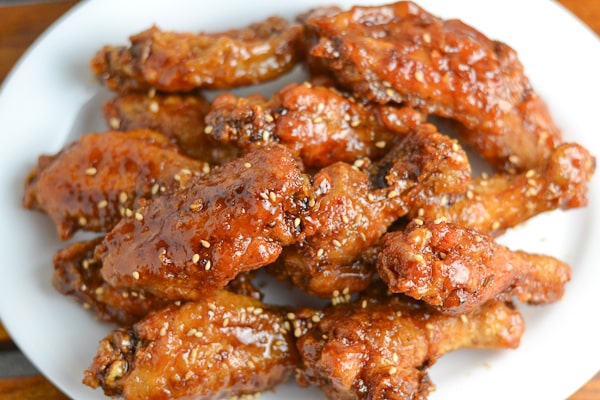 Crispy Korean Fried Chicken Wings
Ingredients
3 lbs chicken wings, mixture of drumettes and wingettes
1 tsp grated ginger
½ tsp salt
½ tsp ground black pepper
⅔ cup potato starch or corn starch
Vegetable oil for frying
Sesame seeds
Sauce
2 tbsp olive oil
4 cloves garlic, minced or grated
¼ cup soy sauce
½ cup honey
1 tbsp vinegar
1 tbsp Dijon mustard
1 tbsp brown sugar
Instructions
Heat a large non-stick skillet or wok over medium high heat. Add the olive oil, and garlic; cook for 30 seconds or until fragrant. Add soy sauce, honey, vinegar, mustard and brown sugar; stir and cook for 2 minutes or until sugar dissolves. Remove from heat and set aside.
Place chicken wings in a big mixing bowl. Add ginger, salt and black pepper; using your hand, mix until well blended.
Place potato starch in a shallow dish. Roll each wing in the powder; shake off excess powder.
Heat oil in wok or a large frying pan. Add wings few at a time and cook for 8-10 minutes, turning a few times using a tong. Drain on paper towel lined plate. (I cooked mine in three batches).
Refry the wings, starting with the first batch (followed by second and then third batch), for another 3-5 minutes or until golden brown and crispy. Drain on paper towel lined plate.
Reheat the sauce; add the hot chicken wings. Mix well until wings are fully coated with sauce. Transfer to a platter and sprinkle with sesame seeds.
Serve and enjoy!