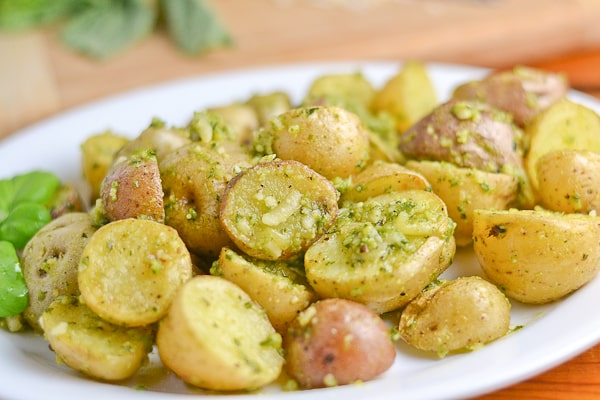 I have been cooking a lot of potatoes lately. This is due to the fact that my family loves potatoes and because I bought a bag of them from Costco. I've used potatoes in soups, but most of the time, I roast and serve them as a side dish. I love using potatoes because of their creamy texture and great taste. Roasting them with dried herbs (Ultimate roasted potatoes) is a great way to enjoy them. I found this recipe which simply roast them with olive oil, salt and pepper and then toss afterwards with pesto sauce and parmesan cheese. It looks irresistible so I decided to try them. The roasted potatoes with the pesto and parmesan cheese coatings were a visual delight and very tasty and flavorful as well. Enjoy!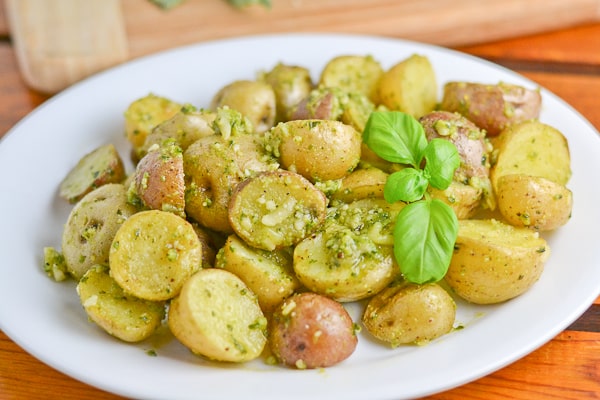 Roasted Pesto Potatoes
Ingredients
2 lbs baby potatoes, halved
1 tbsp olive oil
½ tsp ground black pepper
½ tsp sea salt
2 tbsp basil pesto, store bought or homemade
¼ cup shredded Parmesan cheese
Instructions
Preheat the oven to 400° F (200° C). Line a baking sheet with parchment paper.
In a large bowl, coat the potatoes with the oil, pepper and salt.
Spread the potatoes in a single layer on the prepared baking sheet.
Bake for 20-25 minutes, stirring once, or until potatoes are tender and light golden in colour.
Place the potatoes back in the bowl you used before, and add the pesto and Parmesan cheese. Stir until evenly coated.
Serve immediately.