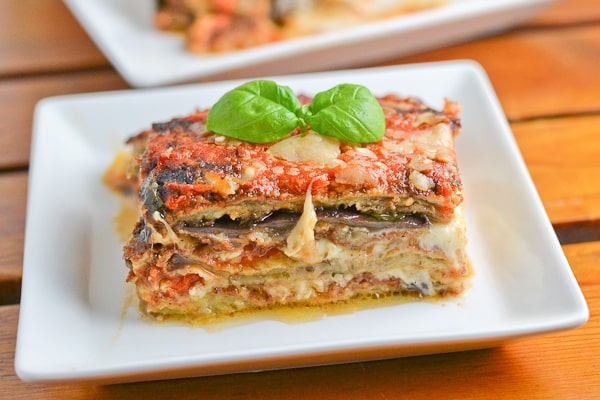 My youngest son and I love this dish; we totally enjoyed having it for two days. It was no surprise because we both love eggplant. Some of our favorites are slow cooker eggplant lasagna, Chinese eggplant with chili garlic sauce and fried eggplant with basil. This popular Italian dish was similar to lasagna but instead of noodles, eggplants are used. A link to this recipe was sent by somebody who does not like eggplant but was raving how yummy this dish was. The eggplant was drenched in flour, eggs and Italian breadcrumbs first and then fried before layering them with the tomato sauce, mozzarella, parmesan cheese and basil leaves. They were really delicious! Frying the breaded eggplant, using fresh mozzarella cheese and fresh basil made this dish very tasty and exceptionally great. The hard and tedious part was frying the eggplants but it was worth it. In the end, you will be rewarded with a dish that you will enjoy and will satisfy your palate. Enjoy!

Eggplant Parmesan
Ingredients
1 (28 oz) can whole tomatoes
2 tbsp olive oil, plus more for frying
Salt
All-purpose flour, for dredging
4 large eggs, lightly beaten
2 cups Italian style bread crumbs
2 ½ lbs (about 2 eggplants), cut lengthwise into ¼-inch-thick slices
12 oz fresh mozzarella, sliced ¼ inch thick
1 cup freshly grated parmesan cheese
1 cup basil leaves
Instructions
Preheat the oven to 375F°. Spray 9X13-inch casserole dish with cooking spray.
In a blender or food processor, puree the tomatoes with juices and 2 tablespoons of olive oil; season with salt. Set aside.
Put the flour, eggs and bread crumbs in 3 separate shallow bowls. Working with 1 slice at a time, dredge the eggplant in the flour; shake off any excess. Dip the slice in the egg and then coat with the bread crumbs.
In a large non-stick skillet, heat ⅛ inch of oil until shimmering. Add breaded eggplant to the hot oil. Cook over moderate heat, turning once and adjusting the heat as needed, until the eggplant slices are golden brown and tender, about 6 minutes. Drain on paper towel-lined plate. Repeat with the remaining breaded eggplant, wiping out the skillet and adding more oil as needed.
Start assembling: Line bottom of casserole dish with a fourth of the eggplant. Spread ½ cup sauce over the eggplant. Top with a third of the mozzarella slices and sprinkle with 3 tablespoons of parmesan cheese. And finally add a third of the basil leaves on top. Repeat the pattern one or two more times (depending on how much ingredients you have left with). Top with a layer of eggplant, a thick layer of tomato sauce and a sprinkle of the remaining parmesan cheese on top.
Wrap the entire pan in foil and set it on a large rimmed baking sheet. Bake the eggplant for about 45 minutes, until heated through.
Increase the oven temperature to 400°. Remove the foil from the top of the eggplant and bake for about 20 minutes longer, until lightly browned on top.
Remove from the oven and let rest for at least 15 minutes before unmolding. Cut and serve.