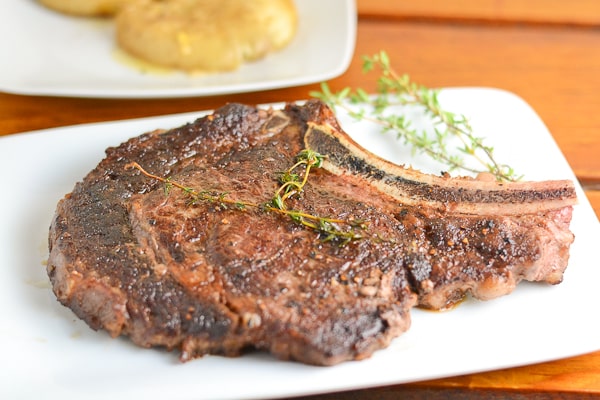 My family and I rarely have steaks. The few times we have it, I make sure we have an excellent cut and with bone-in. Bone-in rib-eye steak is one of my favorites. It is a flavorful and tender cut; it just requires minimum seasonings. In this recipe, the steaks were first rubbed with olive oil and then left at room temperature for at least half an hour. This is an important step before cooking the steaks. It allows it to cook evenly. It was afterwards simply season with salt and pepper and then pan-fried with butter and few sprigs of fresh thyme for 5 minutes on each side. The steaks were perfectly cooked; it was tender and juicy.  My family and I enjoyed these mouth-watering steaks with crispy baked potatoes. Yummy!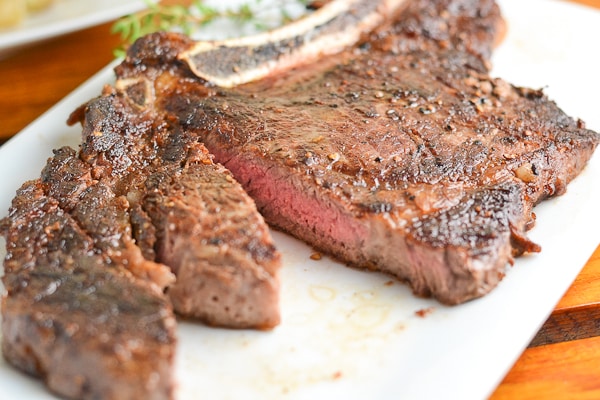 Pan Fried Rib Eye Steak
Ingredients
2 bone-in rib-eye steaks, each 16 oz. and 1 to 1½ inches thick
2 tbsp olive oil
Kosher salt and freshly ground pepper, to taste
4 tbsp (1/2 stick) unsalted butter
4 fresh thyme sprigs
Instructions
Rub the steaks on both sides with the olive oil. Place the steaks on a plate, cover with plastic wrap and let stand at room temperature for 30 minutes to 1 hour. Season the steaks with salt and pepper.
Heat a large heavy pan over medium-high heat. Arrange the steaks in the pan and cook for 5 to 7 minutes. Turn the steaks over and top each steak with 2 tablespoon butter and 2 thyme sprigs, letting the butter melt over the steaks. Cook, basting the steaks with the melted butter, for 5 to 7 minutes or until done to your liking.
Transfer the steaks to a platter and discard the thyme sprigs. Cover loosely with aluminum foil and let rest for 5 minutes before serving.