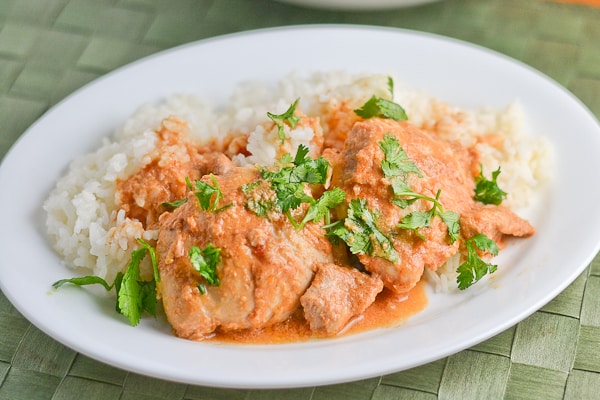 My son who lives in Calgary has been using his slow cooker a lot lately. For him, it is the easiest and most convenient way to prepare his everyday meals. He prepares everything the night before by putting all the ingredients in the crockpot and turning it on before going to bed. The next morning, the food will be cooked and ready for him to take to work for lunch. He has tried several recipes from his friend's food blog, Jocooks and one of them is this boneless chicken thighs that is cooked in a peanut butter and coconut milk based sauce. He told me how good it was, especially on brown rice. I was looking for a new recipe to try so after buying the ingredients needed, I made it on Sunday after lunch. I was pressed for time so I cooked the chicken on high for 4 hours. My kitchen smelled so good while the chicken was cooking in the crockpot. It must be the combination of sesame oil, peanut butter and coconut milk. After 4 hours, the chicken pieces came out really tender and very tasty. There was a lot of sauce, which is good because I like more sauce on my rice. Yummy!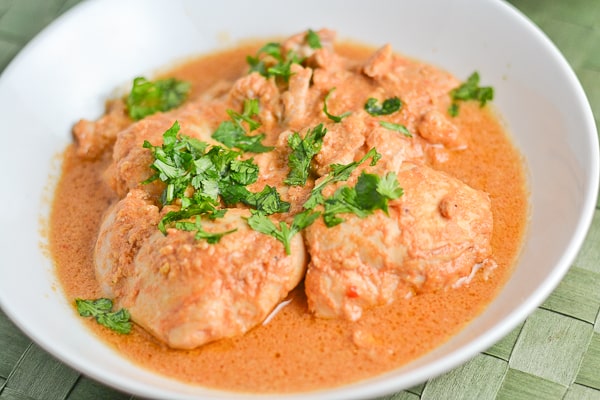 Crockpot Thai Chicken Thighs
Ingredients
8 chicken thighs, boneless and skinless
1 tsp grated ginger
1 ½ cups water
1 tbsp sesame oil
1 tbsp fish sauce
1-2 tbsp sriracha sauce
3 tbsp smooth peanut butter
½ tsp crushed red pepper
½ cup coconut milk
3 tbsp tomato paste
Salt and pepper to taste
Chopped cilantro
Instructions
Wash chicken thighs and pat dry with paper towels. Arrange chicken pieces in the crockpot.
In a small bowl, mix together ginger, water, sesame oil, fish sauce, sriracha sauce, peanut butter, crushed red pepper, coconut milk, tomato paste, salt and pepper. Whisk mixture until well combined.
Pour sauce over chicken and using a spoon, toss the chicken around, making sure each piece is fully coated and covered with the sauce.
Cook on low for 5 to 6 hours or on high for 4 hours. Stir in chopped cilantro.
Serve over rice or noodles.