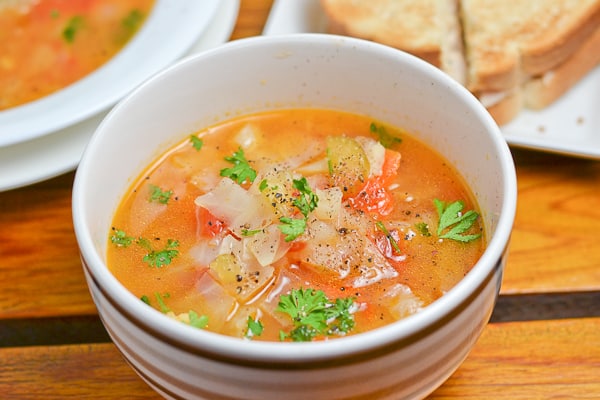 This cabbage soup is awesome. It consists of basic and fresh ingredients like onion, celery, garlic, carrots and cabbage. Furthermore, it is simply seasoned with salt and pepper and garnished with parsley. It is not only healthy and wholesome but also delicious as well. To make it even healthier, I made my own chicken broth. This way, I have control on how much salt to put into it.  I used the bones from store bought rotisserie chicken because it is seasoned and therefore it adds more flavor to the broth.  In a pot, I combined the chicken bones, chopped onions, salt, ground pepper and dried oregano. I let the mixture simmer for half an hour and then I drained it to get the clear and tasty broth. The cabbage was perfectly cooked and there's a bit of crunch when I bite into it.  My husband enjoyed a bowl of this comforting soup on its own while I had it with crackers. Enjoy!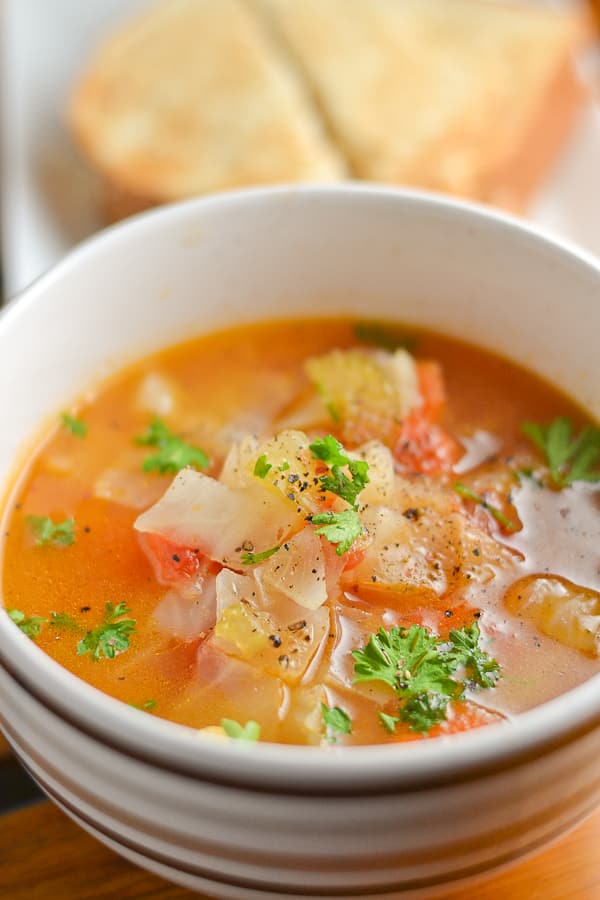 Cabbage Soup
Ingredients
3 tbsp olive oil
1 onion chopped
2 sticks celery, chopped
2 cloves garlic, chopped
8 cups chicken broth
Salt and freshly ground pepper to taste
1 cup chopped carrots
½ large or 1 small cabbage, cored and coarsely chopped
1 (14 oz) can diced tomatoes
Chopped fresh parsley
Instructions
In a large stockpot, heat olive oil over medium heat. Stir in onion, celery and garlic; cook until onion is soft, about 5 minutes.
Add chicken broth, salt and pepper to taste. Bring to a boil, stir in carrots and cabbage. Simmer until cabbage wilts, about 10 minutes.
Stir in tomatoes. Return to a boil; simmer for 15 to 30 minutes, stirring often.
Serve with chopped parsley.
Looking for more soup recipes? Here are a few more that I made.
Italian Sausage and Vegetable Soup
Minestrone Soup with Bacon and Kale