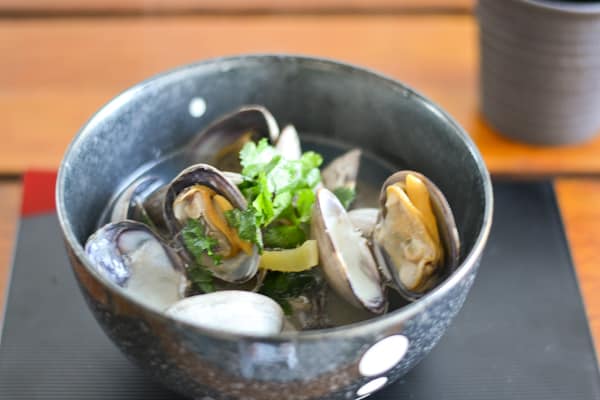 It has been cold but sunny here in Vancouver, BC these past couple of days. The weather forecast is going to be the same the next few days. It is great to be outside and enjoying the sun after few months of gloomy and rainy weather. These were my thoughts when my husband and I were doing our grocery shopping this morning. For lunch, I bought some dim sums and fresh clams.  We haven't had clam soup for a long time, so I made some.
This clam soup recipe is very easy to make.  In 15 minutes, you have a tasty and flavorful soup to enjoy. Yummy 😀

Easy Clam Soup
Ingredients
775 g (27⅓ oz) manila clams, scrubbed
1 tablespoon olive oil
1 teaspoon fish sauce (optional)
1 thumb-sized ginger, peeled and sliced into thin strips
¼ cup cooking wine
2 cups water
Chopped cilantro
Instructions
Heat the oil in a medium size pot. Add the ginger and sauté for 30 seconds.
Add the clams and wine; stir for 1 minute.
Add water and fish sauce, if using; cover and cook until the clams begin to open, about 2-3 minutes.
Season to taste. Discard any clams that do not open. Sprinkle with chopped cilantro.
Transfer to a serving bowl and serve.
Enjoy!