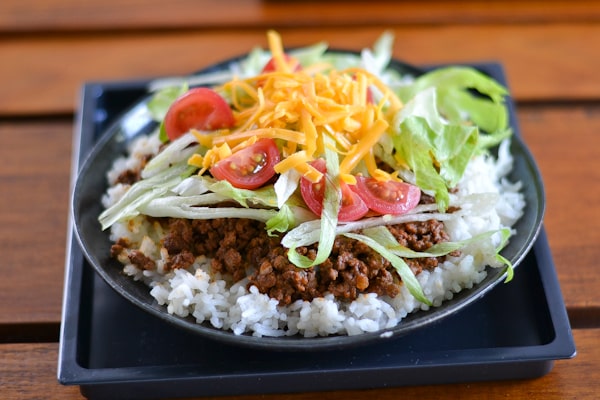 My oldest son went to Japan over the Christmas break. He spent most of his time in Osaka but went to visit Okinawa for couple of days. While in Okinawa, he was able to try some of the island's famous dishes like Okinawan soba and taco rice. Taco rice is so popular amongst the Okinawan people; even schoolchildren have it in their bento box for lunch.
Taco rice is the Okinawan adapted version of the Mexican dish, taco. It consists of cooked seasoned ground beef spread over a bed of rice and then topped with shredded lettuce, chopped tomatoes and shredded cheese. Salsa and sour cream may also be added.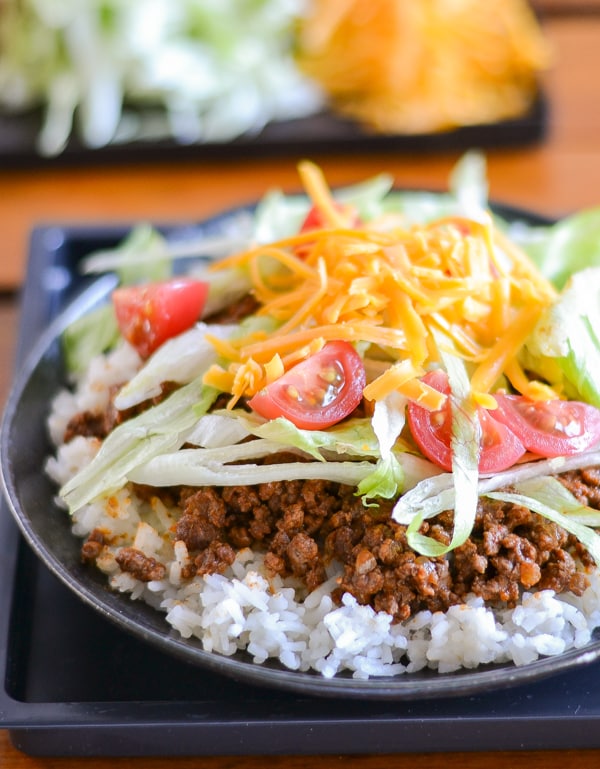 For this recipe, I used the store bought taco seasoning to flavor my ground beef.  The cooked beef was tasty and delicious. Eating it with rice was already good. Eating it with shredded lettuce, cheese, tomatoes, salsa and sour cream was even better. Yummy 😀

Taco Rice
Ingredients
1 lb. lean ground beef
1 tablespoon olive oil
6 tablespoons taco seasoning
1 cup water
4 cups cooked white rice
Cherry tomatoes, quartered
Shredded iceberg lettuce
Shredded cheddar cheese
Instructions
Heat the oil in a pan over medium heat. Add the beef and sauté until it has browned, around 5 minutes.
Add taco seasoning and stir to combine flavors.
Add water; bring to a boil. Lower heat and simmer uncovered for 10 minutes, stirring occasionally. Remove from heat.
To assemble one serving of taco rice, place 1 cup of rice on a plate. Top with seasoned beef, followed by shredded lettuce, cherry tomatoes and shredded cheese.
Serve with salsa and sour cream.
Enjoy!