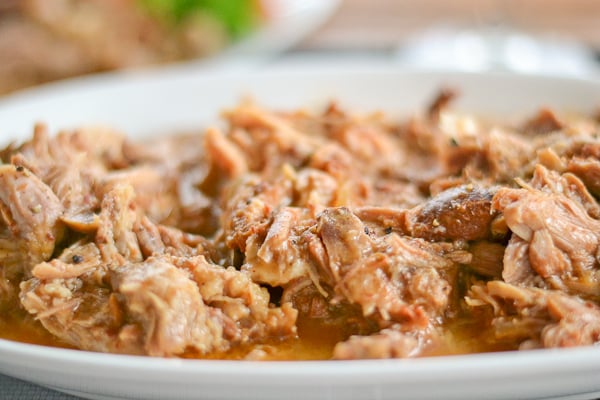 Pulled pork recipes have been quite popular lately, especially the ones that has been cooked in a slow cooker or crock pot. This is the reason why I am sharing my second slow cooker pulled pork recipe today (previously I had shared this pulled pork sandwich recipe). This recipe though is a little different from the one that I shared in the summer. It uses store bought barbecue sauce thus making it much  simpler and easier. The pork roast was slowly cooked in a mixture of barbecue sauce, chopped bacon, onions and garlic for a total of 7 long hours resulting in a very tasty and flavourful pulled pork meat. I find that most people like to eat pulled pork on a bun as a pulled pork sandwich but the typical Filipino that I am; I had mine with steamed rice. Deliciously satisfying!

Easy Slow Cooker BBQ Pulled Pork
Ingredients
1 large onion, thinly sliced
6½ lbs (2.964kg) boneless pork shoulder blade roast (untied)
8 slices bacon, finely chopped
2 cups of your favorite barbecue sauce
2 cloves garlic, minced
1 teaspoon ground black pepper
Instructions
In a 6-quart slow cooker, layer onions and pork roast. In a bowl, combine bacon, barbecue sauce, garlic and pepper. Pour over the top of the pork roast.
Cook on high for 7-8 hours. Remove the pork from the cooker. Using 2 forks, pull the meat apart and place back in the cooker. Stir to combine with the onions, bacon and sauce.
Serve on buns and/or with your favorite salad.
Notes
Recipe adapted from" Enjoy Cooking: The Costco Way".