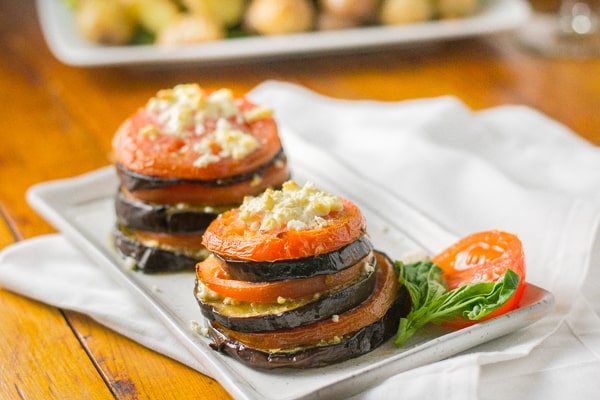 It has been a busy week. It started with lots of Christmas shopping, then Christmas cooking, then more shopping on Boxing Day. Only now I feel like I have been able to catch my breath from the Christmas rush. Because of everything that was happening, I tried to make Christmas Eve dinner as simple as possible. Although this dish probably has the most steps of the three dishes I made, we found that it was worth it the extra effort. My family loves eggplant, tomatoes and basil, so this dish was a hit. We found that it was like eating miniature vegetarian lasagnas. I hope you will enjoy this dish as we did.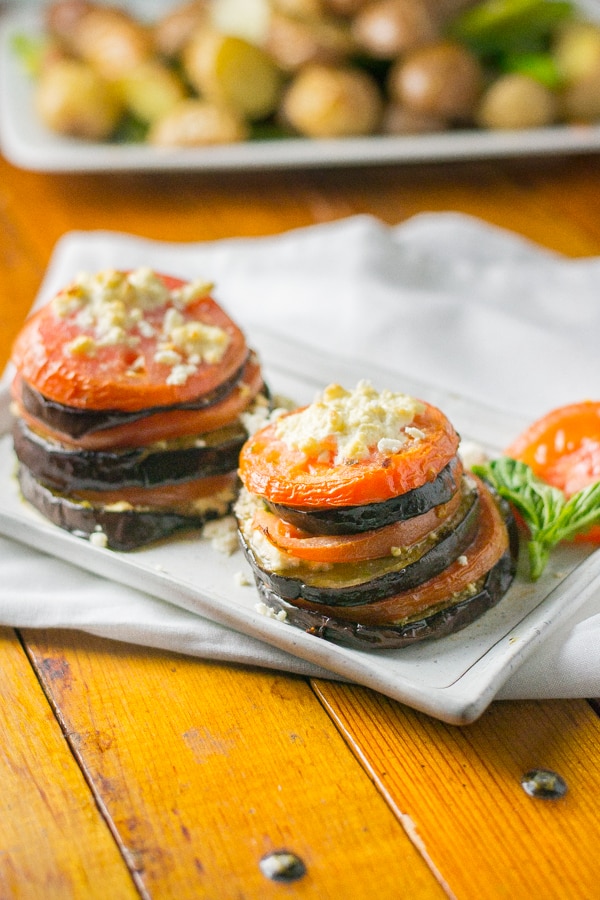 Eggplant with Tomato, Basil and Feta
Ingredients
1 large eggplant
2 large tomatoes
1½ cup feta, crumbled
½ cup fresh basil leaves
1½ tsp lemon juice
2 garlic cloves
½ cup olive oil, divided
Salt
Instructions
Cut the eggplant crosswise into ½" (1¼ cm) thick rounds. Lightly season with salt and leave them for 30 minutes to allow moisture to drain from the eggplant. Pat each round dry.
Preheat the oven to 400°F. Set aside a greased baking pan.
Brush both sides of eggplant rounds with oil and pan fry them for 3-5 minutes on each side. Set aside.
In a blender, combine the basil leaves, 4 tablespoons of oil, garlic cloves, lemon juice and a pinch of salt. Blend until the basil is completely pulverized.
Cut the tomatoes crosswise to ¼" (1 cm) thick rounds.
Arrange 4 eggplant rounds side by side on the baking pan. Spread ½ tablespoon of the basil mixture on top of each one, then generously sprinkle feta crumbs. Top each with tomato rings. Repeat for a second and third layer or until all ingredients are used, finishing off with a drizzle of oil and any remaining feta.
Bake in the oven for 15-20 minutes.