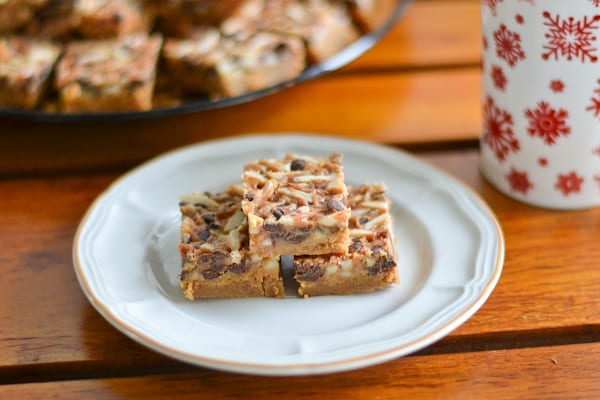 Last week, my friend came over to my house bearing Christmas gifts and baked goodies.  Amongst the good stuff she brought were these cookie bars that my family enjoyed and couldn't get enough of. I later learned the name of these wonderful bars. It is called kitchen sink bars. I didn't know why they call it "Kitchen Sink Bars" but what I knew was that I wanted to learn how to make it.  I saw the recipe in the local newspaper one day. The recipe is so simple and easy to follow.  The original recipe called for 20-25 minutes of baking but when I tried, the center was still not set. So, I let it bake for 5 more minutes. Letting  it cool overnight makes it firm and ready to cut. You can eat them as is or top them with chopped white chocolate and milk chocolate chips. Either way, it's yummy 😀

Kitchen Sink Bars
Ingredients
1 cup toffee bits
1 cup semi-sweet chocolate chips
1 cup slivered almonds
2 cups graham cracker crumbs
¾ cup unsalted butter, melted
1 can sweetened condensed milk
For Toppings:
1 cup milk chocolate chips
1 cup white chocolate, chopped
Instructions
Preheat oven to 350°F.
Line bottom and sides of a 13 X 9-inch pan with parchment paper.
In a bowl, combine toffee bits, chocolate chips and almonds. Set aside.
In a separate bowl, place graham crumbs and mix in melted butter. Press into prepared pan.
Pour condensed milk on top of graham crumb base. Sprinkle toffee mixture over condensed milk.
Bake for 25-30 minutes. Let cool overnight.
Remove from pan, gently remove parchment paper and cut into bars.
Serve as is or with toppings. Enjoy!
Notes
This recipe was adapted from Yolanda Grampp as featured on December 13, 2012 issue of "The Province".