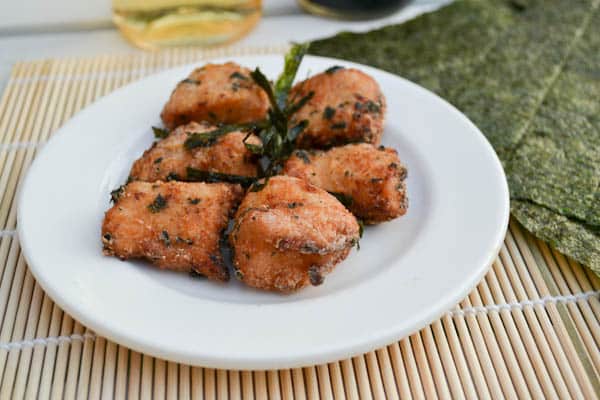 When I think about the uses of seaweed in cuisine, the first thought that comes to mind is sushi or miso soup. One day, my oldest son introduced our family to a new way to eat seaweed. Every time he goes to an Asian supermarket, he would bring home a bag full of roasted laver (seaweed snack).   It is so tasty and has a crisp texture.  My son would eat it straight as a snack like potato chips.  The whole family was hooked. So when I stumbled upon this recipe, I was so excited. I eagerly bought all the ingredients and cooked it for my family.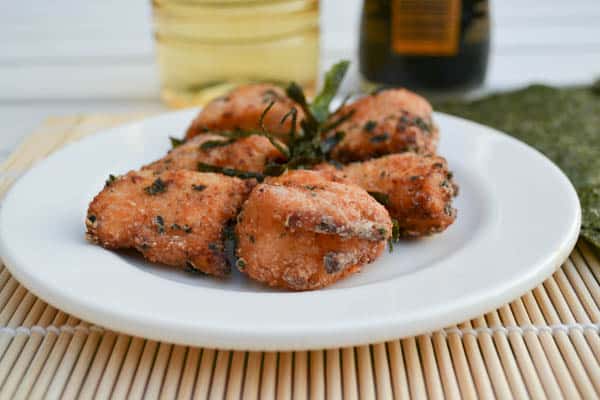 This unique dish consists of pieces of chicken, marinated in grated ginger, soy sauce and mirin. It is then rolled in a nori-cornstarch mixture and then deep fried. The result is delicious golden chicken nuggets with just a little hint of seaweed 🙂

Fried Chicken Nuggets with Seaweed
Ingredients
400g chicken breasts fillets
¼ cup soy sauce
¼ cup mirin
1 ½ inch piece fresh ginger, very finely grated
1 sheet nori, finely chopped or crumbled into very small pieces
⅓ cup cornstarch
Oil, for frying
Instructions
Cut the chicken into bite-sized pieces and place in a bowl.
Combine the soy sauce, mirin and ginger in a small bowl and pour the mixture over the chicken; toss until the chicken pieces are evenly coated with the marinade. Set aside for 15 minutes, and then drain off any excess marinade.
Mix the nori with the cornstarch. Using your fingertips, lightly coat each piece of chicken in the cornstarch mixture.
Heat the oil in a pan until moderately hot; add the chicken, 6 to 7 pieces at a time, and fry until golden, turning regularly. Drain on paper towels.
Serve and enjoy!
Notes
Adapted from "The Essential Asian Cookbook"