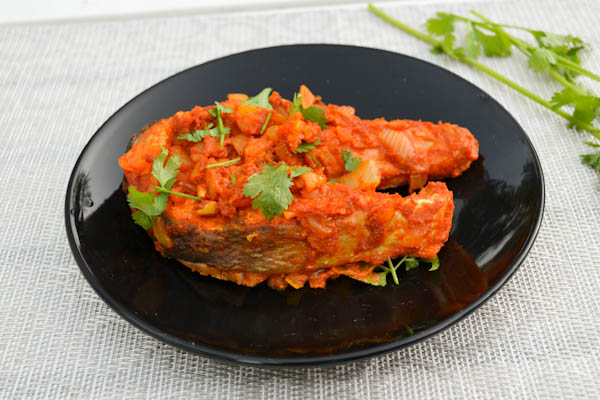 A while back, a close and dear family friend of ours came to visit. With him, he brought a huge whole fresh salmon. I left the task of slicing the salmon up to pieces to my husband, but coming up with what to do with the pieces was up to me. With the salmon head, I decided to make a Filipino style tamarind soup. But with the rest, I wanted to try something new.
I was brainstorming and I came across a curry salmon recipe in one of my cookbooks. It looked like a pretty simple recipe and the fact that our family is a fan of curry encouraged me to try the dish, so I did.
The result was a delicious curry salmon dish, topped with a sauce that is seasoned with turmeric, cumin, and coriander. The taste is mild, not overpowering and not too spicy. The original recipe calls for any type of fillet fish and to fry the fish. I decided to use a salmon steak and instead of frying the fish, I opted for a healthier option by baking the salmon instead.

Salmon Steak with Mild Curry
Ingredients
2 salmon steaks or any fish steaks
2 tablespoon olive oil
1 medium onion, finely chopped
2 cloves garlic, minced
1 teaspoon ground coriander
2 teaspoon ground cumin
½ teaspoon ground turmeric
½ cup tomato sauce
Chopped cilantro leaves
Instructions
Preheat oven to 375°F.
Sprinkle salmon steaks with salt. Place steaks on a baking sheet and bake for 10 minutes. Set aside.
Heat the oil in a large pan. Add the onion and garlic; cook until soft and brown. Add the coriander, cumin and turmeric and stir-fry for 30 seconds.
Add the tomato sauce and simmer for 1 minute. Add fish steaks and cook for 1 minute on each side. Sprinkle with cilantro and serve with rice.
Enjoy!
Notes
Recipe adapted from "The Essential Asian Cookbook"