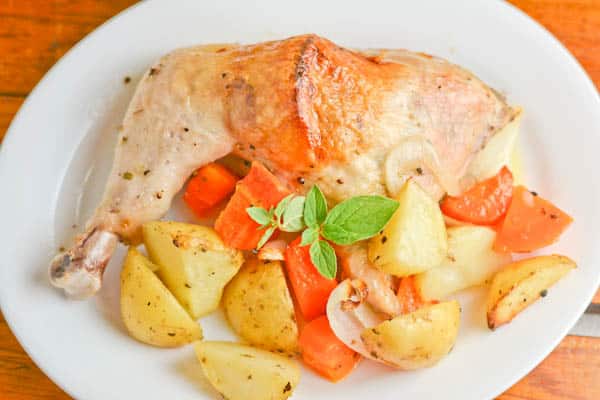 My nephew made Greek style roasted chicken legs for their dinner last week and he shared it on Facebook. It looks so good, I decided to make some for my family. My son from Calgary is here for two weeks so it is the best time to make this tempting chicken dish. I love this recipe because it has simple ingredients and it is easy to prepare. The hard part is slicing the vegetables. The slices of lemon and garlic placed under the chicken's skin make it tasty and so flavorful. The smell that was coming from the oven while the chicken and vegetables were roasting was incredible.  This Greek style roasted chicken with potatoes and carrots is a meal unto itself.  It is satisfyingly healthy and delicious as well. Enjoy!
Greek Style Roasted Chicken with Potatoes and Carrots
Ingredients
4 chicken legs with thigh attached
Sea salt and freshly ground peppers
1 lemon, cut in quarters
4 cloves garlic, peeled and cut in half
2 large carrots, peeled and cut into large dice
1 ½ lbs small white potatoes, brushed and cut into large dice
1 medium yellow onion, sliced
½ cup olive oil
1 tbsp dried oregano
Instructions
Preheat oven at 425 degrees F.
Season chicken pieces with salt and pepper. Push under the skin of each chicken a piece of lemon and 2 garlic clove halves. Place chicken on a large pan (large enough to fit potatoes and carrots in one layer).
Place carrots, potatoes and sliced onion in a large bowl. Add 4 tablespoons olive oil and oregano; mix well, until all vegetables are well coated. Spread vegetables in one layer around the chicken pieces in the pan.
Brush chicken pieces generously on both sides with olive oil. Roast for about 45 minutes to one hour or until juices run clear when thickest part of the chicken is pierce with a fork.
If chicken is cooked but the vegetables are not, remove chicken from the pan, and continue roasting the vegetables until they are crunchy on the outside and soft on the inside.