My husband celebrated his birthday recently. Instead of buying him a cake, my youngest son and I decided to make him a homemade one. We chose to use Martha Stewart's recipe for the sponge cake. The cake came out really nice. It was delicious, light and fluffy. The addition of ground hazelnut and almond extract gave this cake a pleasing taste and distinct flavor. My kitchen hasn't smelled so good! The hazelnut cake was already delightfully tasty, it did not require any frosting but my son and I decided to adorn it with chocolate mousse. I am extremely glad we added this extra step; each and every slice of the cake was devoured and enjoyed by my family. Yummy!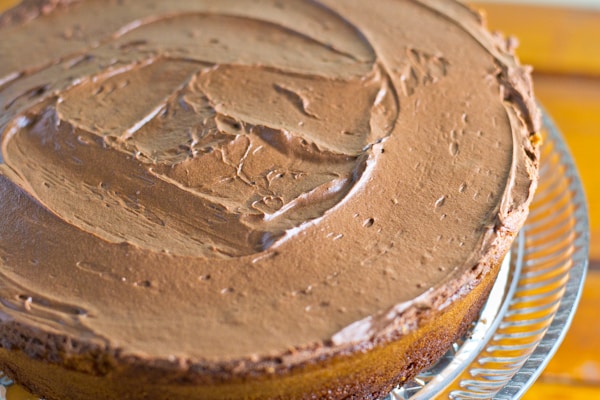 Hazelnut and Chocolate Mousse Cake
Ingredients
For the hazelnut sponge cake:
¼ cup whole hazelnuts
¾ cup sugar, divided
9 tbsp cake flour
6 tbsp cornstarch
3 large eggs, at room temperature
3 large egg yolks, at room temperature
¾ tsp coarse salt
1 tbsp almond extract
¾ cup vegetable oil
For the chocolate mousse:
2 large egg yolks
2 tbsp sugar, divided
1 cup heavy cream
4 ounces bittersweet chocolate, melted
½ tsp vanilla extract
Instructions
Place an oven rack in the middle position. Preheat oven to 375 degrees F. Spray a 9-by-3-inch round cake pan with vegetable spray; set aside.
Make the sponge cake:
Grind the hazelnuts in a food processor with ¼ cup sugar. In a medium bowl, sift together flour and cornstarch and then add hazelnut mixture; set aside.
In the bowl of an electric mixer fitted with the whisk attachment, beat the whole eggs, the yolks, remaining ½ cup sugar, salt, and almond extract on high speed until thick and pale yellow in color, and mixture holds a thick ribbon when whisk is lifted from bowl, 7 to 8 minutes. Remove bowl from mixer; gently and quickly fold in flour mixture. Gradually drizzle in oil, while folding.
Pour batter into prepared cake pan and bake until a tester comes out clean when inserted into the center of the cake, about 25 to 30 minutes. Remove from oven and turn cake out immediately onto a wire rack. Let cool for at least 1 hour.
Make the chocolate mousse:
In a medium saucepan, whisk together egg yolks, 1 tablespoon sugar, and ½ cup heavy cream. Cook over medium-low heat, stirring, until mixture coats back of spoon, 3 to 4 minutes (do not boil). Remove from heat; whisk in melted chocolate and vanilla. Chill until cool.
With an electric mixer, beat remaining ½ cup heavy cream with remaining 1 tablespoon sugar until stiff peaks form. Stir ⅓ of whipped cream into cooled custard mixture, then gently fold in the rest with a rubber spatula.
Spread the chocolate mousse over the top of the cake. Transfer in the fridge for at least 15 minutes to set.