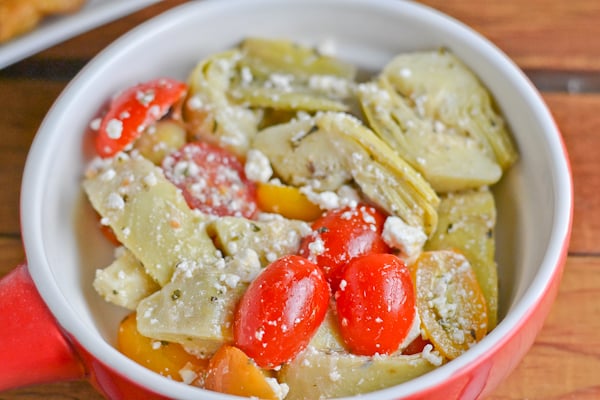 This artichoke and tomato salad is so simple and easy to make. It does not require any cooking and it also consists two of my favorite ingredients: tomatoes and artichokes. Using canned artichoke hearts makes this salad even easier to make. The fresh and simple dressing of olive oil, red wine vinegar, tarragon and basil completes this salad. A sprinkle of crumbled feta cheese adds texture and a distinct flavor as well. Serve this awesome salad on its own or with your favorite meat or seafood. Enjoy!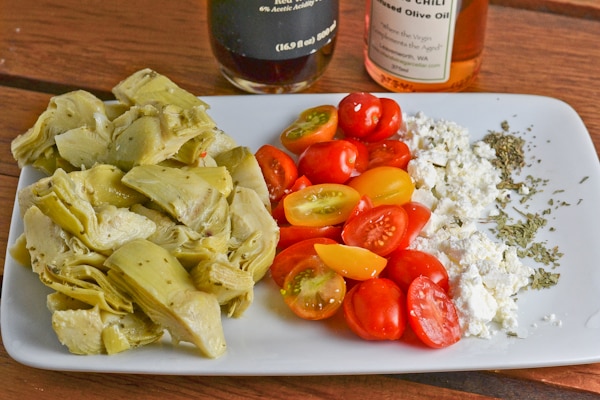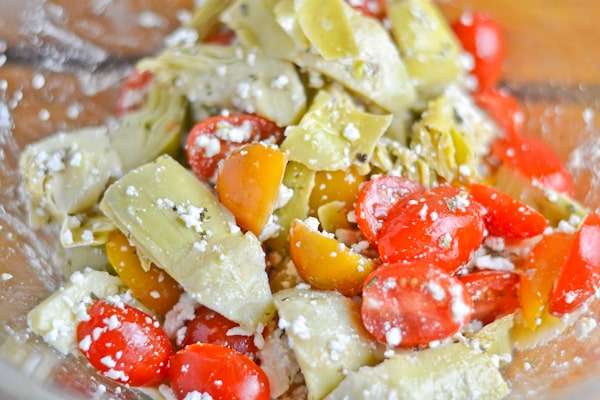 Artichoke and Cherry Tomato Salad
Ingredients
10 cherry tomatoes, cut in halves
1 (398 ml) can artichoke hearts (not marinated), drained
2 tbsp olive oil
1 tbsp red wine vinegar
1 garlic clove, pressed (optional)
1 tbsp fresh tarragon (or a ¼ tsp dried)
1 tbsp fresh basil (or ¼ tsp dried)
Sea salt and freshly ground pepper
2 tbsp crumbled feta cheese
Instructions
Cut each artichoke into halves and set aside.
In a big bowl, whisk together olive oil, vinegar, garlic and herbs. Season with salt and pepper.
Add artichoke and tomatoes; stir to blend. Serve sprinkled with feta cheese over the top. Chill for 20 minutes.