My son from Calgary recommended a version of this dish to me. He got the recipe from Jocooks, a good friend of his. He was raving how delicious they were and how easy it was to make them. Jo used drumsticks in her recipe; I used chicken wings instead because that's my family's favorite chicken part. The smell in my kitchen while baking these in the oven was unbelievably good. The chicken looked golden and irresistibly delicious when they came out of the oven and marinating them overnight made them delightfully tastier. This chicken recipe is definitely a keeper. Next time, I will try this recipe with drumsticks and thighs. Enjoy!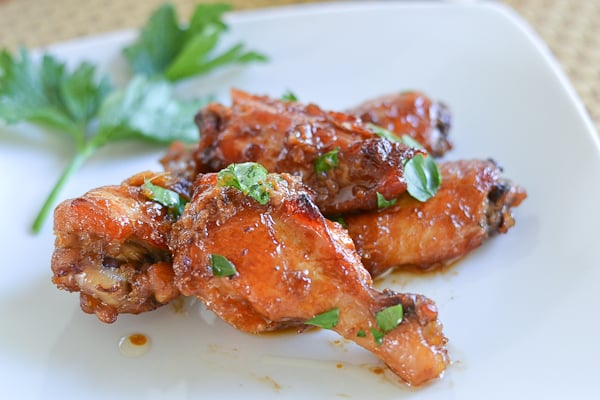 Honey Soy Chicken Wings
Ingredients
2 lbs chicken wings, a mixture of drummettes and wingettes
Chopped parsley for garnish
Marinade
2 tbsp olive oil
1 tbsp pure sesame oil
4 tbsp honey
6 tbsp soy sauce
1 tbsp grated garlic
1 tbsp grated ginger
1 tsp kosher salt
½ tsp freshly ground pepper
Instructions
In a Ziploc bag, combine together marinade ingredients. Add chicken wings and mix well, making sure each piece is coated with the marinade. Seal the bag, refrigerate and let the chicken marinate for couple of hours or overnight.
Preheat oven to 375 °F.
Transfer wings and marinade to a shallow baking dish and bake for about an hour and 5 minutes, turning once halfway through. Transfer cooked wings to a serving plate. Pour accumulated juices over, if desired and sprinkle with chopped parsley.
Serve and enjoy!