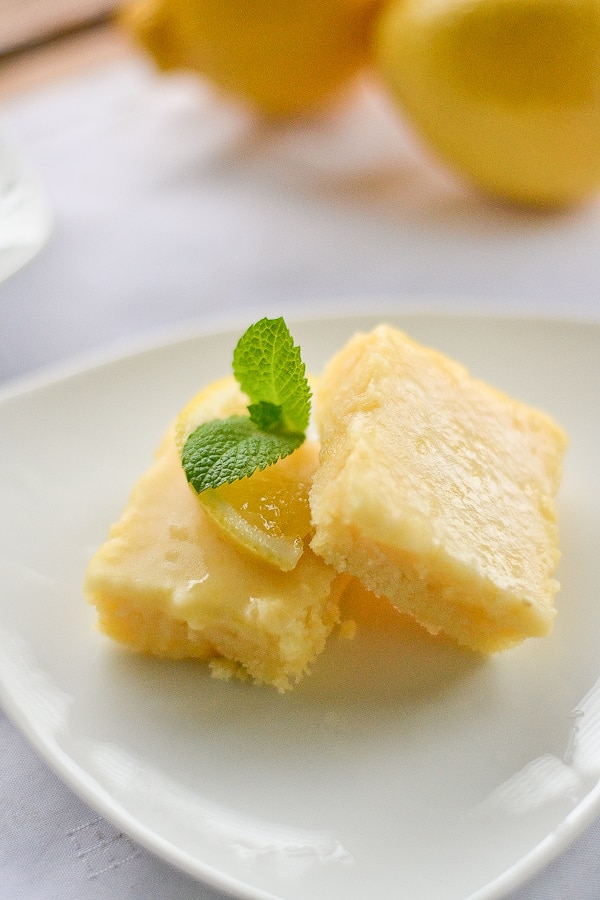 I was intrigued when I saw this recipe because I have never heard of lemon brownies before. The only brownies I know are the chocolate ones. Since I love lemons, I decided to try this recipe. This was such an incredibly easy dessert to make; the hard part was zesting the lemons. These bars are light, dense and very lemony. No matter how you call this wonderful treat, it was a hit with my family.

Lemon Brownies
Ingredients
½ cup unsalted butter, softened
¾ cup flour
2 large eggs
2 tablespoons lemon zest
2 tablespoons lemon juice
¾ cup granulated sugar
½ teaspoon salt
For the tart lemon glaze:
4 tablespoons lemon juice
8 teaspoons lemon zest
1 cup icing sugar
Instructions
Preheat the oven to 350 degrees F.
Grease an 8×8 inch baking dish with butter and set aside.
In a medium bowl, beat the flour, sugar, salt, and softened butter until combined.
In a separate bowl, whisk together the eggs, lemon zest, and lemon juice until combined. Pour into the flour mixture and beat for 2 minutes at medium speed until smooth and creamy. Pour into baking dish and bake for 20-22 minutes or until golden around the edges. Baking time may vary depending on the oven, so take a peek at 20 minutes to see how it looks like. Do not over bake or the bars will dry.
Remove from the oven and cool completely before glazing.
Sift the icing sugar and whisk with lemon zest and juice. Spread half of the glaze over the brownies with a rubber spatula and let glaze set.
Spread remaining glaze and let it set. Cut into bars and serve.
Enjoy!