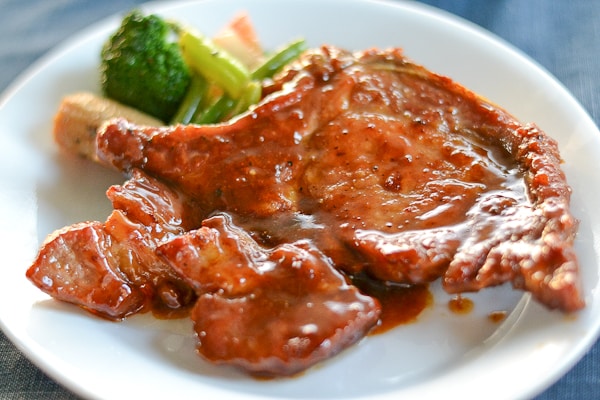 I work at a school and would always dress up every Halloween. It is a fun day for the kids and adults. There were lots of creative and interesting Halloween costumes this year, but my favorite was the purple minion. It was an enjoyable day but tiring so dinner had to be a simple one. I made these maple pork chops that are so easy to make and yet incredibly delicious. It has all the ingredients I really like such as maple syrup, cider vinegar and Dijon mustard. The browned chops with the maple glaze are not only appealing to the eyes but also satisfying to the palate. This chops recipe is definitely a keeper!

Maple Pork Chops
Ingredients
4 (8-ounce) bone-in pork chops
Salt and pepper
1 tablespoon vegetable oil or more, if needed
½ cup maple syrup
1 tablespoon cider vinegar
2 teaspoons Dijon mustard
Instructions
Cut 2 slits, about 2 inches apart, through outer layer of fat and silverskin on each chop. Pot chops dry with paper towels and season with salt and pepper.
Heat oil in 12- inch non-stick skillet over medium-high heat. Add chops and cook in batches until browned, about 4 minutes per side. Transfer chops to plate and tent loosely with foil.
Lower heat, and then add maple syrup, vinegar and mustard to the skillet and cook until thickened, around 2 minutes. Add chops any accumulated juices and simmer, turning often, until glaze coats chops, about 2 minutes. Serve with your favorite vegetables.
Enjoy!
Notes
Recipe source: America's Test Kitchen: The Best Simple Recipes.