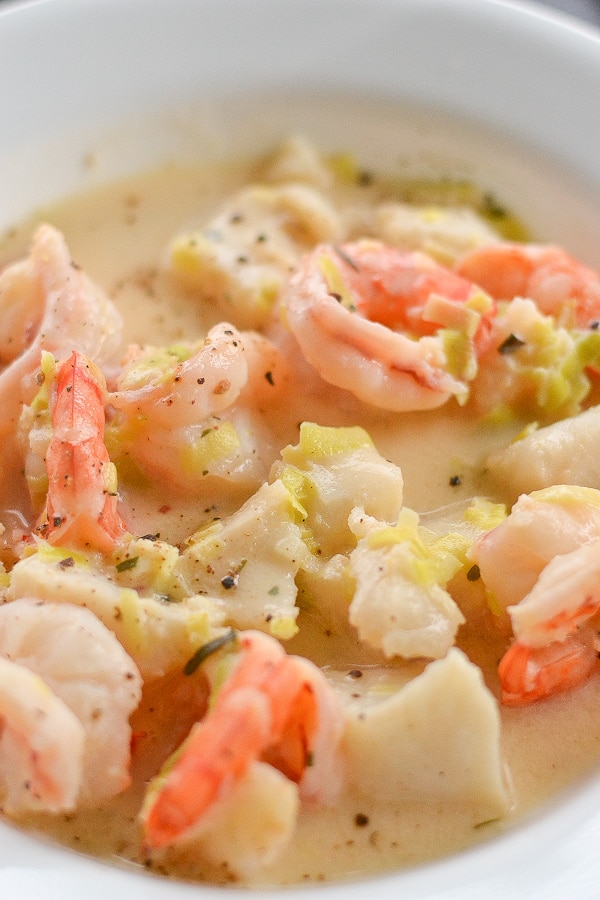 Earlier this week, I decided to try out this shrimp and fish chowder recipe. Like most of the dishes I make, it was really simple and consists of only a few ingredients. The dish was a huge hit with my family!
This delicious recipe consists of some of my family's favorite seafood: fish and shrimp. It also has leek, which added so much flavor to the broth.  This seafood chowder has become one of my family's favorite; I will definitely make this chowder again. Next time, I will make sure to double the recipe.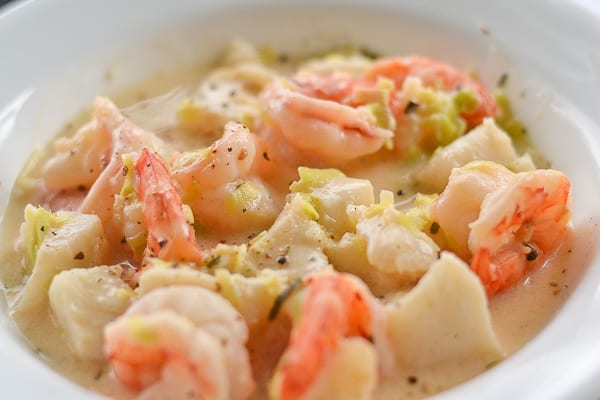 Shrimp and Fish Chowder
Ingredients
2 tablespoons unsalted butter
1 leek (white and light green parts only), thinly sliced
2 tablespoons all-purpose flour
1 ½ cups chicken broth
½ cup 10% half and half cream
1 lb large shrimps or tiger prawns, peeled and deveined
14 oz cod fillets or other white fish fillets, cut in 1-inch pieces
½ teaspoon dried tarragon
½ teaspoon grated lemon zest
2 tablespoons lemon juice
¼ teaspoon pepper
Instructions
In large saucepan, melt butter over medium heat; cook leek, stirring occasionally until softened, about 4 minutes.
Add flour; cook, stirring, for 1 minute. Stir in broth and cream; cook, stirring until slightly thickened, 2 to 3 minutes.
Stir in shrimps, fish, tarragon, lemon zest, lemon juice and pepper; cook over medium-high heat until shrimp are pink and fish is opaque, 5 to 6 minutes. Correct seasoning by adding salt and pepper.
Serve and enjoy!
Looking for more soup recipes? Here are a few more that I made.
Italian Sausage and Vegetable Soup
Minestrone Soup with Bacon and Kale