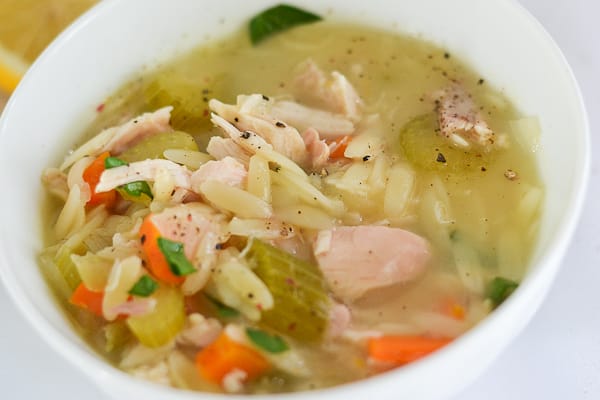 I made this soup because it reminds me of my favorite Greek soup, avgolemono. Avgolemono is one of the few soups that I crave when I am not feeling well. Like avgolemono, this soup uses lemon, an ingredient that I love so much and frequently use in my cooking and baking. It also makes use of a whole rotisserie chicken, a favorite of mine to use in recipes that requires chicken meat.  The rotisserie chicken has already been seasoned therefore the meat are very tasty and full of flavors. I did not throw away the bones but instead used them to make my own chicken broth. Last but not the least, this soup uses orzo pasta, my favorite ingredient to use in soup nowadays. This tangy and comforting soup is definitely a keeper. My family and I had this heartwarming soup on the weekend and it helped us get through the cold chilly day. Enjoy!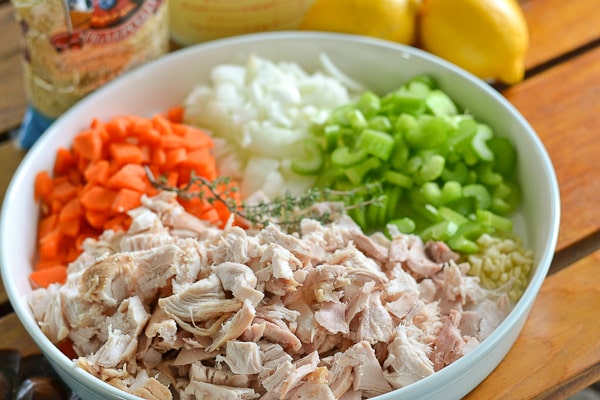 Lemon Chicken Orzo Soup
Ingredients
2 tsp olive oil
1 cup diced carrots
1 large onion, chopped
3 sticks celery, chopped
2 cloves garlic, minced
1 tsp fresh thyme
2 ½ tsp grated lemon rind
2 tsp salt
9 cups chicken stock
¼-1/2 cup fresh lemon juice
1 rotisserie-cooked chicken meat, shredded (about 3 cups)
8 oz orzo pasta, uncooked
Salt and freshly ground pepper to taste
Chopped parsley
Instructions
Heat olive oil in a large stockpot. Add carrot, onion, celery, garlic, thyme, lemon rind and salt; sauté over medium heat until vegetables begin to soften.
Add chicken stock and lemon juice. Bring to a boil.
Add chicken and orzo. Simmer for 12 minutes or until orzo is cooked through, stirring constantly so orzo does not stick to the bottom of pan. Season with salt and pepper to taste. Serve with chopped parsley.
Enjoy!