My cousin gave me a bag of fresh vegetables from her garden. In the bag were carrots, red cabbage and a huge zucchini. This time, instead of making the usual chocolate zucchini loaf, I made this lemon flavored zucchini cake. I love lemons, hence the reason for the choice. The original recipe used 9X13 inch baking pan but I used a bundt pan instead. This is because I love the shape of the cake baked from a bundt pan. I don't have to purchase any ingredients. I have everything needed in my pantry. I ran out of pecans though, so I used a mix of pecans and macadamia nuts. This cake turned out soft, moist, lemony and nutty. My husband and I enjoyed slices of this wonderful cake with a cup of coffee. Yummy!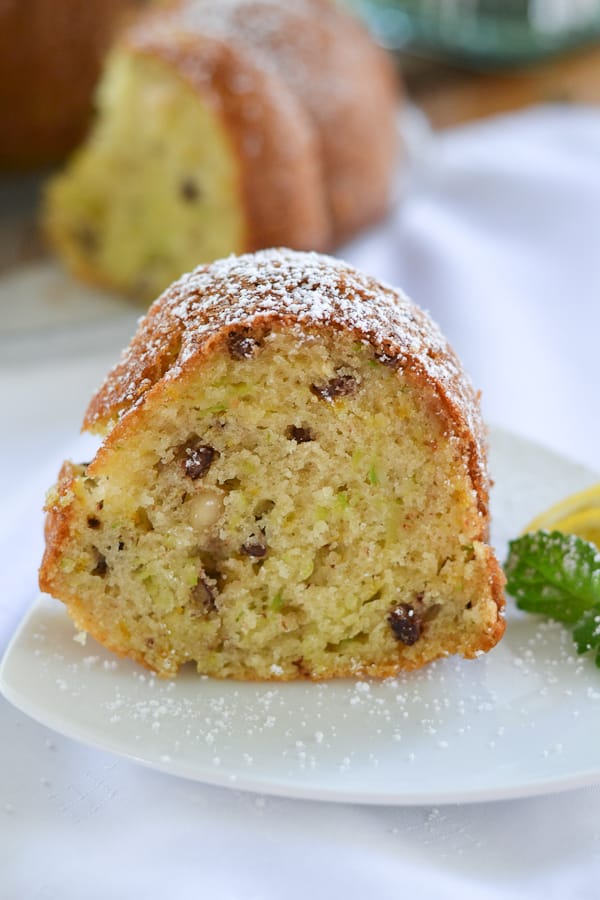 Lemon Zucchini Cake
Ingredients
1 ¼ cups granulated sugar
1 cup vegetable oil
3 eggs
2 tsp lemon zest
¼ cup lemon juice
1 ¾ cups grated zucchini
2 cups all purpose flour
¼ tsp baking powder
2 tsp baking soda
1 tsp salt
1 cup chopped nuts (I used a combination of pecans and macadamia)
⅓ cup confectioners' sugar for decoration
Instructions
Preheat oven to 350°F. Grease and flour Bundt pan.
In a large bowl, combine sugar, oil, eggs, lemon rind, and lemon juice; mix well. Stir in grated zucchini.
In another bowl, combine flour, baking powder, baking soda, and salt. Gradually add this mixture to the zucchini mixture. Mix thoroughly. Stir in nuts.
Pour batter into prepared pan and bake for 40 to 45 minutes, or until a knife inserted in the center comes out clean. Let cool in pan on a wire rack for 20 minutes. Gently loosen cake from edge and center of pan; invert onto plate. Cool completely.
Sprinkle top with sifted confectioners' sugar. Cut with a serrated knife and serve. Enjoy!