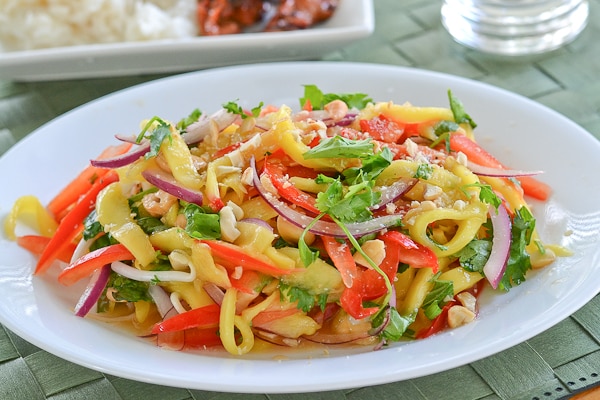 I was watching my favorite food TV show last week when the host made this green mango salad that made me drool. Green mango was one of my favorite snacks as a child growing up in the Philippines. I remember buying them from street vendors in the market and dipping them in shrimp paste and grimacing afterwards. I was able to buy Thai green mangoes from a local Asian store but for some reason was not able to use them right away. It was three days later when I got the chance to make green mango salad. The mangoes were still green but not as firm as the day I bought them.  The flesh was light yellow in color and not as sour.  It was just the perfect taste to go with the freshness of the bell pepper and the sour-salty taste of the dressing. This green mango salad is light, refreshing and very flavorful. Pair it up with any grilled meat or seafood and you have a delicious and balance meal to enjoy.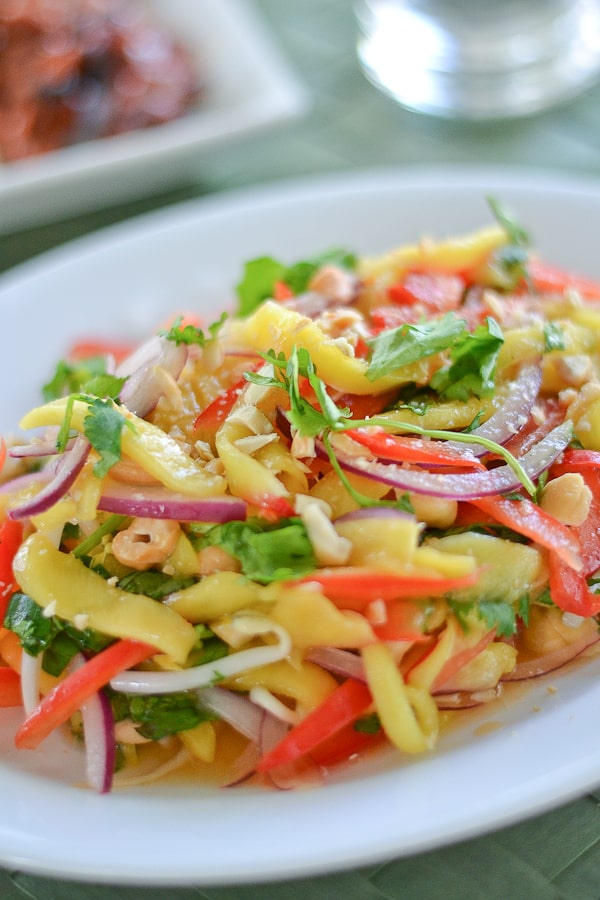 Thai Green Mango Salad
Ingredients
1 large or 2 small Thai green mangoes, peeled and finely shredded
½ red bell pepper, thinly sliced
½ cup thinly sliced red onion
¼ cup chopped cilantro
Small bundle of Thai basil leaves, finely shredded
¼ cup roasted crushed peanuts or cashews
Dressing:
1 ½ tbsp lime juice
1 ½ tbsp fish sauce
½ tsp brown sugar
1 red bird's eye chili, finely chopped (optional)
Instructions
Combine the dressing ingredients in a mixing bowl and stir until the sugar has dissolved.
Place shredded mangoes, bell pepper, red onion, cilantro and basil in a salad bowl. Add dressing and mix well.
Garnish with the peanuts and serve with grilled meat or fish.
Enjoy!