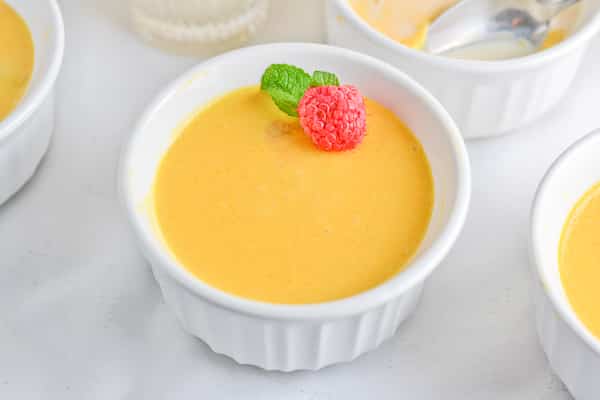 This is the second mango pudding recipe that I have shared. The first one I shared uses fresh mango. Unfortunately, mangos are not available all year round here in Vancouver.
The difference with this recipe is that it uses canned mango pulp, which can be bought at any grocery store that sells Indian food. I bought mine from the Real Canadian Superstore here in Vancouver. I got this recipe from my friend who gave it to me after she brought some over during the holidays. My friend uses diced peaches in her recipe, but diced fresh mangoes may be used also. I ended up using  diced mangoes and peaches. The great thing about adding these diced fruits into the pudding is that it adds a different texture.
My sons ended up loving this wonderful dessert so much. They simply could not get enough!
Mango Pudding II
Ingredients
1 (850g) can mango pulp (Kesar or Alphonso)
3 cups whipping cream
1 cup granulated sugar
6 sachets ( 7 grams each) of Knox unflavored gelatin
1 cup hot water
4 (450 ml) bowls of diced peaches and mangoes, drained or 1 cup diced fresh mangoes
Evaporated milk (optional)
Instructions
In a medium pan, heat mango pulp and cream over medium heat. Add sugar; stir until sugar dissolves.
Completely dissolve gelatin powder in hot water and then add to the mixture in the pan, whisking until well combined. Remove from heat.
Arrange diced mangoes evenly at bottom of 8X12 inch-pan or 8X8 inch-pan and 6 (6 oz) ramekins. Pour gelatin-milk-mango mixture over the diced mangoes in the pan and ramekins, if using. Allow to set in the fridge for at least 4 hours or overnight.
Serve with evaporated milk, if desired.