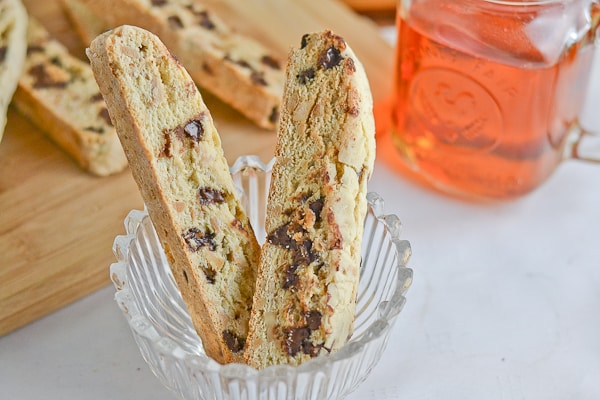 I made these famous Italian coffee biscuits to give to my sister and her family when we met on New Year's Day for lunch. I made Cranberry Pistachio White Chocolate Biscotti before and I found them easy to make. I decided to try a new recipe that uses chocolate chips and chopped almonds. I was not disappointed. These twice-baked biscuits were crunchy and delicious. They are especially good when dunked in hot beverages. Enjoy!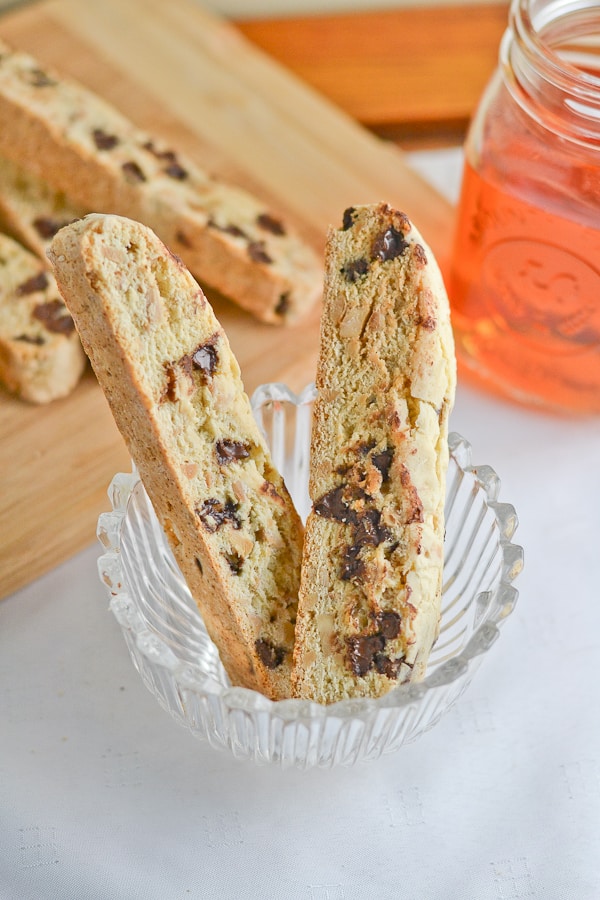 Chocolate Almond Biscotti
Ingredients
¾ cup blanched whole almonds
⅔ cup granulated white sugar
2 large eggs, room temperature
1 tsp vanilla extract
1 tsp baking powder
¼ tsp salt
1¾ cups all-purpose flour
⅔ cup chocolate chips
Instructions
Preheat oven to 350 °F.Line a baking sheet with parchment paper.
Place almonds on baking sheet and bake for about 8-10 minutes or until lightly browned and fragrant. Let cool and then chop coarsely.
In bowl of your electric mixer, fitted with the paddle attachment (or with a hand mixer), beat the sugar and eggs on high speed until thick, pale, and fluffy (about 5 - 10 minutes). Beat in the vanilla extract. Scrape down the sides and bottom of your bowl as needed.
In separate bowl, whisk together the flour, baking powder and salt. Add to the egg mixture and beat until combined. Fold in the chopped almonds and chocolate chips.
Transfer the batter to a well floured surface and roll into 12 by 4 inches log shape. You may have to flour your hands to form the log as the batter is quite sticky. Transfer the log to your baking sheet and bake for about 25 minutes or until firm to the touch. Remove from oven and let cool on a wire rack for about 10 minutes.
Reduce your oven temperature to 325 °F.
Transfer the log to a cutting board and cut into ¾ inch slices. Place the biscotti, cut side down, on your baking sheet. Bake for about 8-10 minutes, turn the slices over, and bake for another 8-10 minutes or until golden brown and dry to the touch. (The longer you bake the cookies the more crisp and crunchy they will be.) Remove from oven and let cool. Store in an airtight container.