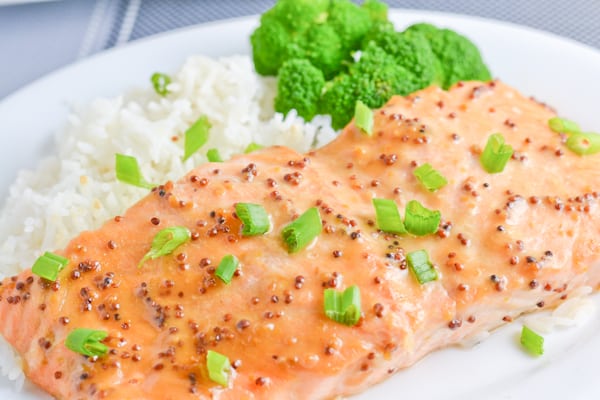 My family can't get enough of salmon. We are lucky we live in Vancouver where salmon is abundant and available all year round. I cook salmon almost once a week and always try to make it a different way. Having said that, we still have our favorite salmon dishes and one of them is Maple Mustard Baked Salmon. This maple miso dijon salmon recipe is similar, but Kevin of Closet Cooking gave this popular dish an Asian twist, adding miso and rice vinegar to the ingredients. The salmon turned out perfectly cooked after 17 minutes and it was tender, succulent and very tasty. To make the salmon top caramelized and dark in color, I boiled the reserved marinade and brushed the top of salmon at the last couple minutes of baking. This baked salmon marinated in maple syrup, miso paste and Dijon and grainy mustard looks appetizing and is delicious. I will definitely be making this healthy baked salmon dish again in the future. Enjoy!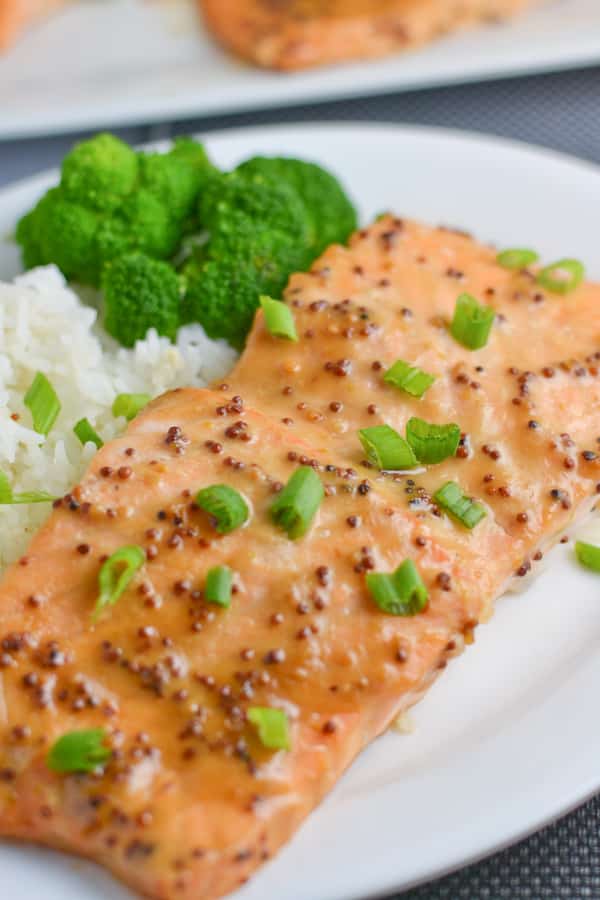 Maple Miso Dijon Salmon
Ingredients
4 (8 oz) skinless salmon fillets
¼ cup maple syrup
2 tbsp grainy mustard
1 tbsp Dijon mustard
1 tbsp white miso paste
1 tbsp rice vinegar
2 tsp soy sauce
1 clove garlic, grated
Instructions
In a glass baking dish, combine all ingredients (except salmon); mix thoroughly. Add salmon and coat with the marinade completely. Cover with plastic wrap and let marinade in the fridge for at least 30 minutes.
Preheat oven to 400°F. Line a baking sheet with foil and then spray with cooking spray. Remove the salmon from marinade and place onto prepared pan. Bake for 15-20 minutes or until just starts to flake easily.