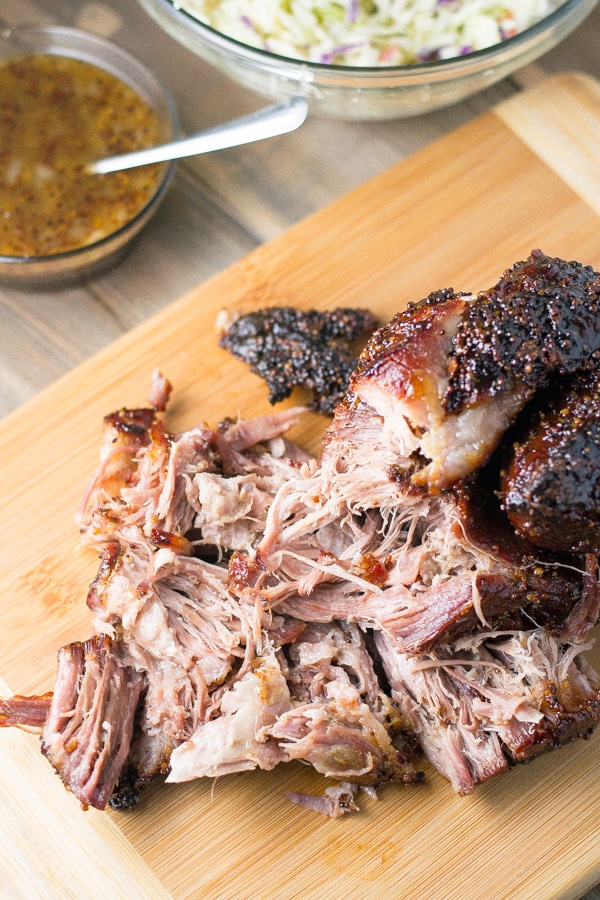 Pulled pork is always a big favorite at my house. There is something about the tender, tasty shredded meat that is so irresistible and hard to ignore.  I have made a couple of pulled pork dishes before and each time, my family just loved it. I saw this maple pulled pork recipe when I was watching a cooking show last week. The browned pork that came out from the oven looked so appetizing, I had to try it at home. I adapted the recipe by using what was available at the supermarket when I did my shopping and what my family's needs were. So instead of using a 6 pound pork shoulder, I used a 4 ½ pound one instead. The pork was covered with a mixture of salt and brown sugar first and then refrigerated overnight. After wiping the excess salt and sugar, the pork was then glazed with a maple syrup-grainy mustard mixture and finally roasted in the oven for 6 hours. The meat came out so tender and flavorful. You can enjoy this delicious maple pulled pork as is dipped in the sauce or in a sandwich: piled high on a bun, drizzled with the dipping sauce and topped with coleslaw. It was an incredibly satisfying meal. Enjoy!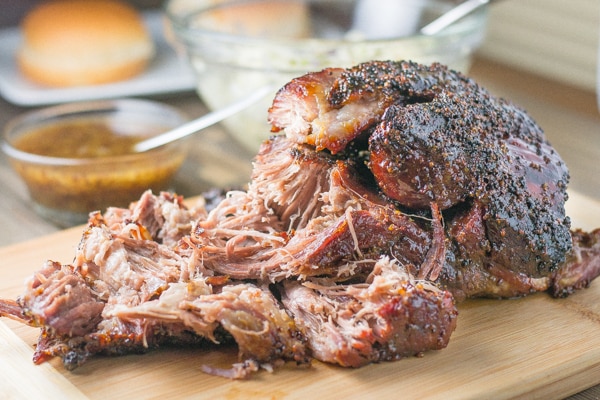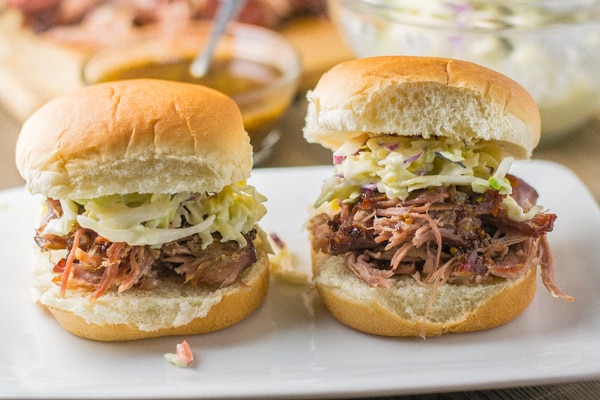 Maple Pulled Pork
Ingredients
½ cup kosher salt
½ cup brown sugar
4½ lbs boneless pork shoulder butt
1 cup maple syrup
Juice of half a lemon
½ cup grainy mustard
Freshly ground pepper
Dipping sauce:
1 tbsp olive oil
1 small onion, finely chopped
½ cup reserved maple mustard
1 tbsp butter
Instructions
In a small bowl, combine salt and brown sugar. Rub mixture all over the pork, cover and refrigerate overnight.
Preheat oven to 300 degree F.
Wipe off the salt-sugar mixture from the pork with paper towels. Place the pork in a roasting pan. Set aside.
In a bowl, combine together maple syrup, lemon juice, mustard and freshly ground pepper. Reserve ½ cup of the mixture for dipping sauce.
Baste about ½ of the remaining maple-mustard mixture all over the pork. Roast in the oven for 6 hours or until meat is fork tender, basting the pork with the rest of the maple-mustard in the last hour of cooking.
Make the dipping sauce:
Heat oil in a sauce pan over medium heat. Add onion and cook until translucent. Stir in ½ cup reserved maple-mustard sauce. Reduce heat and let simmer for a minute. Add butter and whisk until sauce is silky smooth. Season with freshly ground pepper.
Tear and shred the pork into chunks and place on a serving platter. Serve as is with the dipping sauce or as a sandwich.