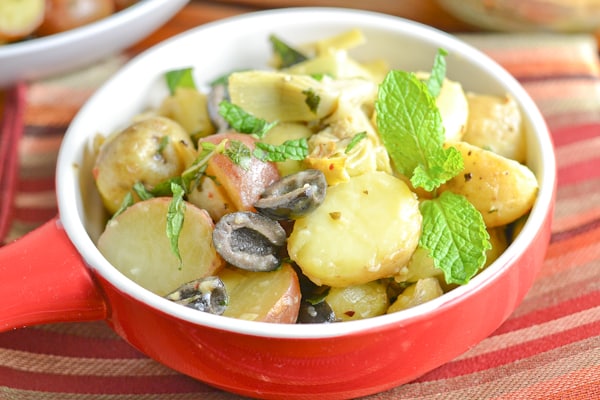 On Sunday, I made this Mediterranean potato salad to go with the pulled pork sandwich I made for lunch. I found the potato salad recipe online and it caught my attention because it consists of artichokes and black olives, ingredients that I don't normally see in a potato salad. I decided to make it because artichokes and olives are both my favorites. I was not disappointed.  The boiled potatoes were dressed with a mixture of lemon juice, Dijon mustard, extra-virgin olive oil, garlic, oregano, red pepper flakes, salt and pepper.  They were tender and creamy with a bit of tanginess to it. I can't get enough of this tasty potato salad; I have been eating it for lunch at work for two days now. It was satisfyingly delicious!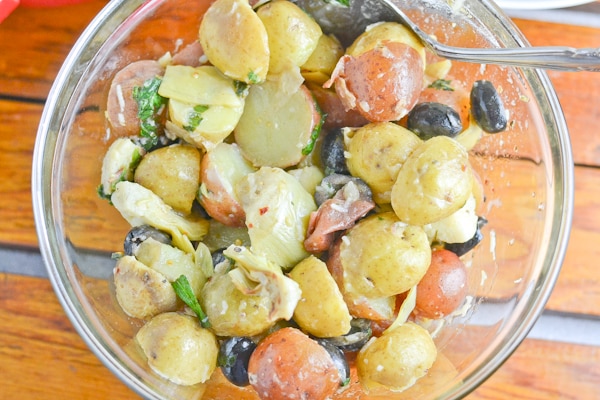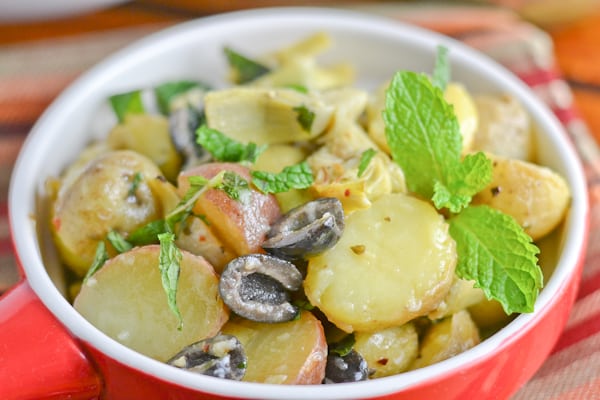 Mediterranean Potato Salad
Ingredients
¼ cup plain rice vinegar
Kosher salt
3 lbs baby potatoes, scrubbed clean
1 (14 fl oz) can artichoke hearts, drained and cut into eights
1 cup halved black olives
½ cup chopped fresh mint
For the dressing:
¼ cup fresh lemon juice
2 tsp Dijon mustard
1 tsp kosher salt
½ tsp freshly ground black pepper
¼ cup extra-virgin olive oil
2 large cloves garlic, grated or minced
½ tsp dried oregano
½ tsp crushed red pepper flakes
Instructions
Combine the vinegar and 2 teaspoons of salt in a large bowl. Let sit to dissolve the salt.
Put the potatoes and 2 tablespoons of salt in a pot and add enough cold water to cover by 1 inch. Bring to a boil over high heat and reduce the heat to maintain a simmer. Cook the potatoes for 10 to 15 minutes, or until you can easily poke through them with a fork.
Drain the potatoes in a colander and set aside to cool. Cut the potatoes into halves or quarters, depending on the size. Add the potatoes to the bowl with the rice vinegar and gently stir with a spatula to coat.
Gently fold the artichokes, olives, and chopped mint into the potatoes.
Make the dressing by whisking together the lemon juice, mustard, salt, and pepper in a small bowl. Slowly whisk in the oil until combined. Whisk in the garlic, oregano, and red pepper flakes.
Pour some of the dressing into the potatoes to generously coat them (you may not need all of the dressing). Season to taste with salt and pepper. Serve while still slightly warm, or at room temperature.