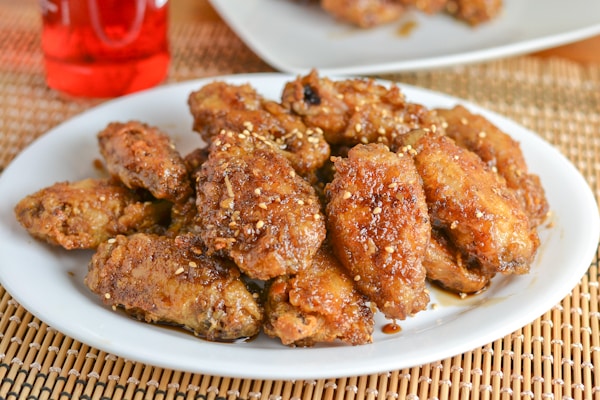 I know it's healthier to bake chicken wings instead of frying but nothing beats the taste of fried chicken wings especially when it's freshly fried. This Korean-style fried chicken wings uses a mixture of tempura flour and cold water to coat the wings before frying them. The batter when fried gives the wings its crispy and crunchy texture. The freshly cooked wings are already good as is but tossing them in a mixture of grated garlic, soy sauce, sugar and mirin make them even better. They are sweet, finger-licking good and very addictive. I am already planning to make it again on the weekend. Yummy!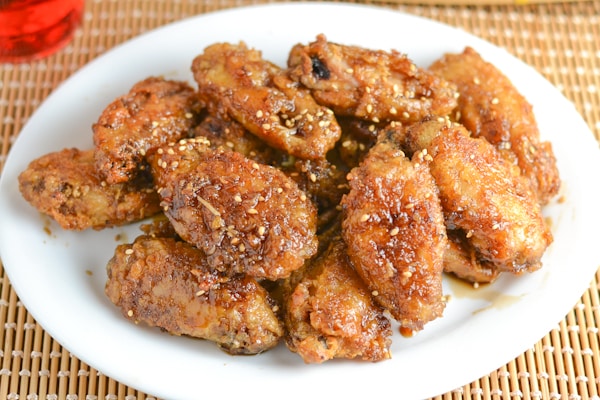 Korean Fried Wings with Sweet Garlic Sauce
Ingredients
3 lbs chicken wings, a mixture of wingettes and drummettes
1 ¼ cups tempura flour
Salt and freshly ground pepper
1 cup cold water
Vegetable oil for frying
Sesame seeds (optional)
Sweet Garlic Sauce:
4 cloves garlic, grated or minced
6 tbsp soy sauce
6 tbsp sugar
⅔ cup Mirin
Instructions
In a large mixing bowl, dust chicken wings evenly with ¼ cup tempura flour. Season with salt and pepper.
In another large mixing bowl, whisk together 1 cup tempura flour and 1 cup cold water.
Heat oil in a large frying pan over medium high heat.
Coat dusted wings with tempura batter and carefully drop into the hot oil. Working in batches, fry wings 8-10 minutes, turning a few times using a tong. Drain on paper towel lined plate.
In a small sauce pan, add all ingredients for sweet garlic sauce. Let boil for few seconds. Remove sauce from heat.
In a large mixing bowl, toss fried chicken wings evenly with sauce. Transfer wings to a serving plate. Drizzle the leftover sauce in mixing bowl over the chicken wings. Garnish with sesame seeds, if using.
Serve and enjoy!