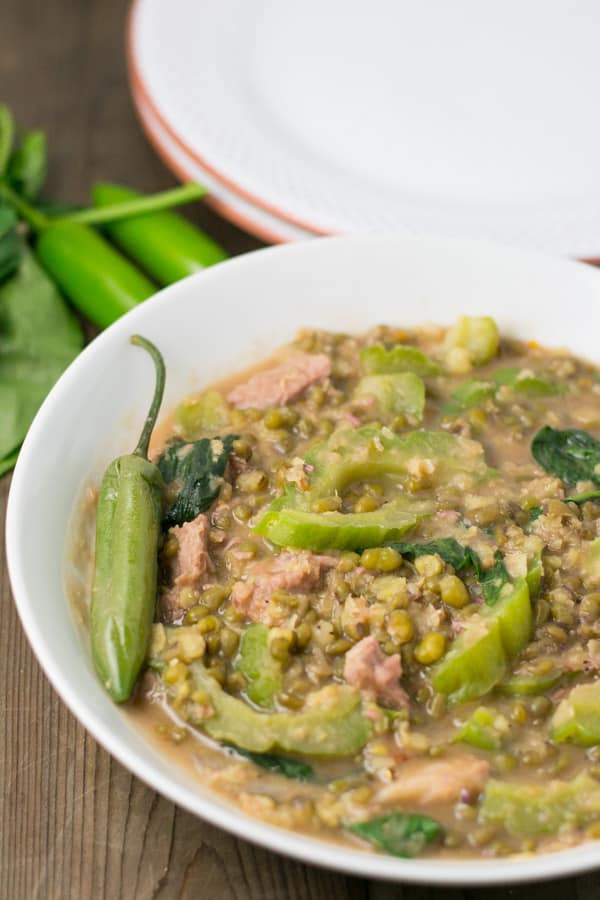 Munggo guisado is one of my husband's favorite dishes.  He keeps saying how good it is and how he will never get tired of it. I usually make a big pot and give some to his sister, who shares his love for this dish.  It is traditionally a meatless dish. Fish is the usual main protein and bitter melon leaves serve as the greens.  Filipinos like to serve this dish during Lent, when most of them abstain from eating meat.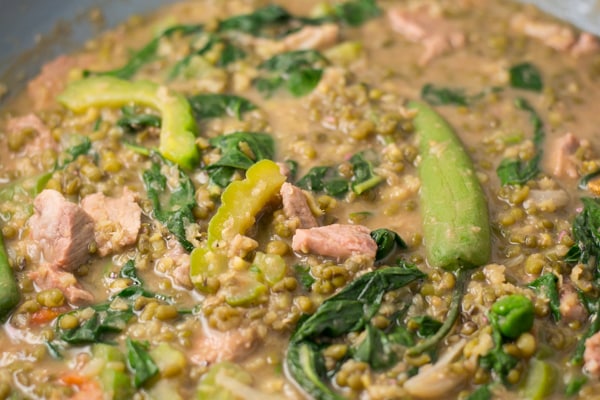 My version of munggo guisado consists of boiled mung beans with sauteed pork pieces flavored with shrimp paste. I used spinach and bitter melon fruit instead of the leaves.  I love the crunch and bitter taste of the bitter melon. I think it adds a distinct taste and flavor to the dish.  Yummy!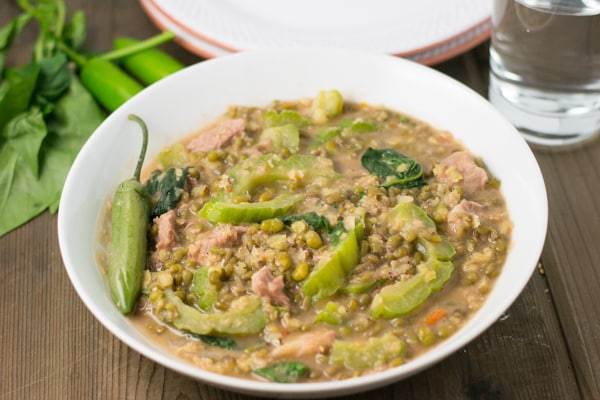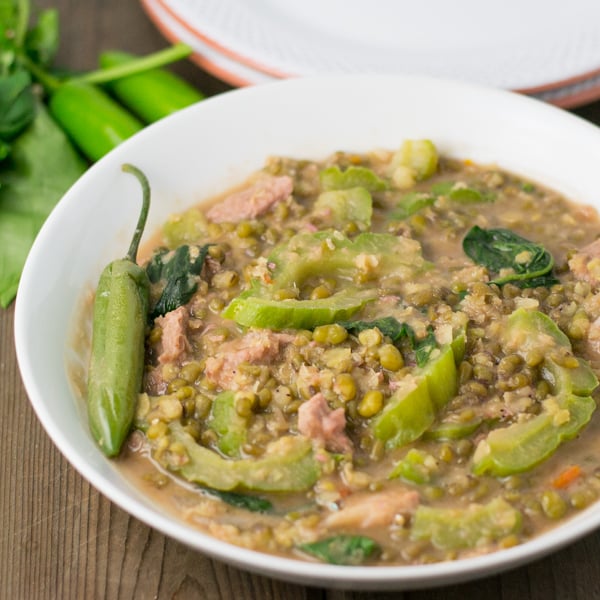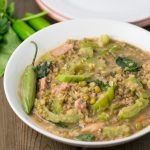 Munggo Guisado (Sautéed Mung Beans)
Ingredients
1

cup

green mung beans

rinsed

5

cups

water

2

tbsp

olive oil

2

cloves

garlic

chopped

1

small onion

chopped

1

tomato

diced

200

g

pork tenderloin

cut into strips

2

tbsp

sautéed shrimp paste

1

ampalaya (bitter melon)

halved, seeds removed and sliced diagonally,

Bunch spinach

2

Serrano peppers

(optional)

Salt to taste
Instructions
Boil mung beans in 5 cups water for 35 minutes or until tender. Set aside.

In a pan, sauté garlic in hot oil until light brown. Add onion and tomato; sauté for 2 minutes or until onion is soft.

Add pork and sauté for 3 minutes or until meat is cooked. Add shrimp paste and stir to combine flavors. Add boiled mung beans, ampalaya and 3 cups of water. Bring to a boil and let simmer for another 5 minutes, or until slices of ampalaya are tender.

Correct seasonings. Add spinach and serrano peppers, cover and remove from heat. Let stand for 5 minutes before serving.

Enjoy!