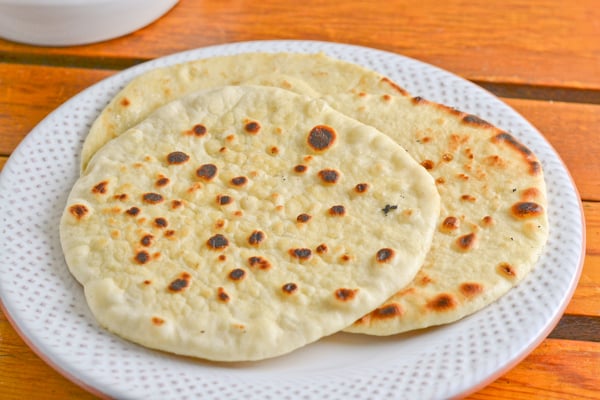 This naan bread is one of the many bread recipes my youngest son has made during his break from his summer classes. He made it on Father's day as part of the meal we prepared for my husband.  The original recipe uses a grill pan to make them but my son used a cast iron skillet instead. It was delicious especially when it was freshly made. My family ate them as is while I dipped them in tzatziki sauce. Enjoy!
Naan Bread
Ingredients
2 ¼ tsp active dry yeast
1 cup warm water
¼ cup white sugar
3 tbsp milk
1 egg, beaten
2 tsp salt
4 cups bread flour
¼ cup melted butter, for brushing
Instructions
In a large bowl, dissolve yeast in warm water. Let stand about 10 minutes, until the yeast blooms and is frothy. Stir in sugar, milk, egg, salt, and bread flour. Knead for 6 to 8 minutes on a lightly floured surface, or until smooth. Place dough in a well oiled bowl, cover with a damp cloth, and set aside to rise. Let it rise 1 hour, until the dough has increased in volume by about 50%.
Deflate the dough. Pinch off small handfuls of dough about the size of a golf ball. Roll into balls, and place on a tray. Cover with a damp towel, and allow to rise until doubled in size, about 30 minutes.
Preheat a pan to low to medium heat. (I used a cast iron skillet.)
Roll one ball of dough out into a thin circle with a rolling pin, adding flour to prevent sticking. Place rolled dough on pan, and brush the uncooked side with melted butter. Turn over and brush melted butter on the other side. Let cook for 1-2 minutes or until puffy and lightly browned. Turn over again and cook for another 1-2 minutes. Remove from pan, and continue the process until all the naan has been cooked.