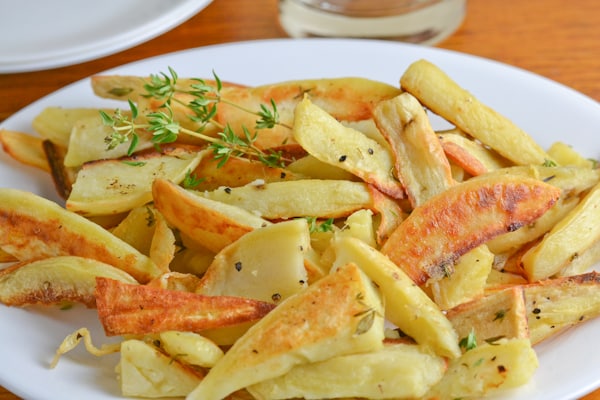 My husband and I love sweet potatoes. We usually boil them with skin on and have them for snacks. Most Filipinos, on the other hand love frying them with brown sugar. I remember having this deep fried caramelized sweet potato (kamote cue) for mid-afternoon snack when I was in the Philippines. This simple recipe of baked sweet potato fries is another way of enjoying this root vegetable.  The potato wedges were coated with olive oil and fresh thyme leaves and seasoned with salt and pepper. They were then baked not fried. They were not as crispy as the fried ones but they were tender and satisfying. My family really enjoyed snacking on these sweet tasty treats.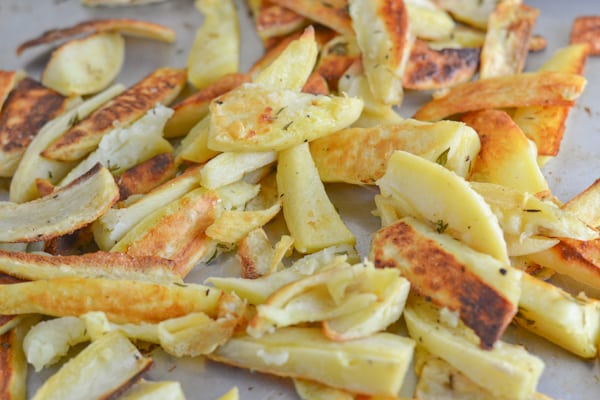 Baked Sweet Potato Fries
Ingredients
4 medium-size sweet potatoes, peeled and cut in wedges
¼ cup olive oil
2-3 tsp fresh or dried thyme leaves
Salt and freshly ground pepper
Instructions
Preheat oven to 425° F.
Place sweet potatoes in a bowl. Add olive oil and thyme; mix well to combine.
Season with salt and pepper.
Place potato wedges on a baking tray in a single layer. Bake for 15 minutes, turn the potatoes over and then bake for another 10-15 minutes or until potato wedges are tender and golden brown. Remove from oven and let cool for 5 minutes.
Serve and enjoy!