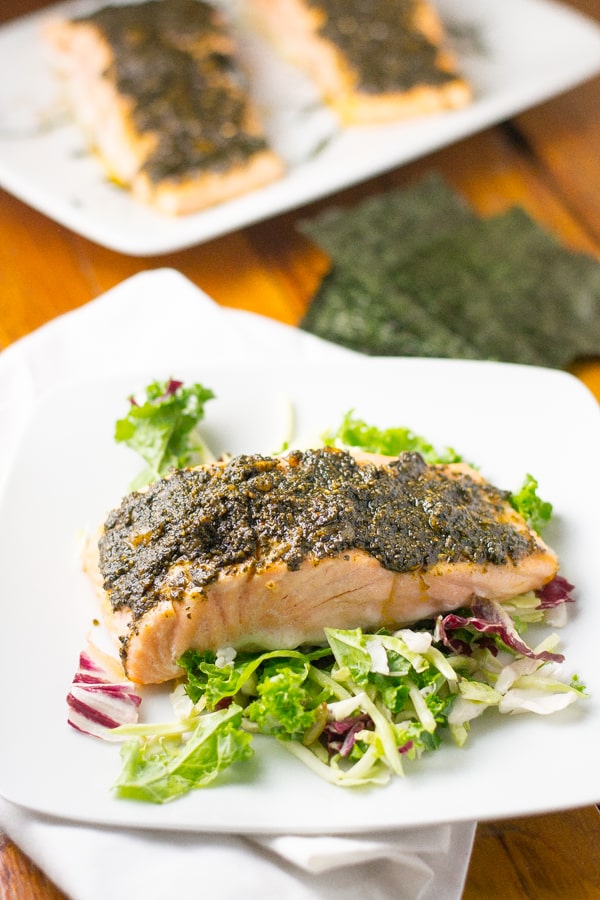 This Japanese inspired nori crusted salmon dish was a hit with my family. It was no surprise because the recipe consists of salmon and nori sheets, which my family regularly eats. I am constantly looking for new ways to make salmon and I am thankful to find delicious recipes like this one to make for my family. The nori sheets and some spices were ground in the blender first and then sauteed with shallots and garlic. The salmon was topped with the nori mixture and then baked in the oven until cooked through. The salmon came out nice and moist and even better, the nori crust gave the salmon a pleasantly distinct smell, taste and texture.  I had this salmon dish with rice while some members of my family enjoyed it with salad. Either way, it was a good and satisfying meal. Enjoy!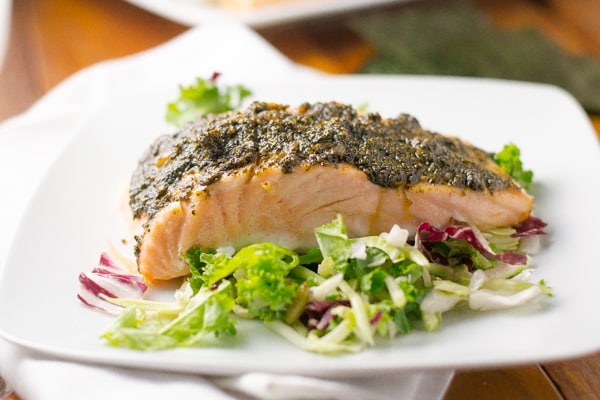 Nori Crusted Salmon
Ingredients
2 nori sheets, toasted
1 tsp paprika
1 ½ tbsp sesame seeds
1 tsp black peppercorns
Coarse salt to taste
3 tbsp butter, divided
1 shallot, minced
1 clove garlic, minced
1 Thai chili, sliced (optional)
4 salmon fillets, skin removed
1 tsp vegetable oil
Instructions
In a blender, break up nori sheets. Add paprika, sesame seeds, black peppercorns and salt; process until mixtures are evenly ground.
In a small sauté pan, melt 2 tablespoons butter over medium heat. Add shallots and garlic. Sauté over medium heat for 1 minute or until shallots are soft. Add chili, if using and nori spice mixture. Stir for 1-2 minutes and then remove from heat.
Preheat oven to 350 degrees F. Sprinkle fillets with salt.
Heat oil and remaining 1 tablespoon butter in a sauté pan. Sear salmon with skin side up, turn and then sear the other side, about 2 minutes.
Transfer salmon fillets to baking dish, skin side down and top with nori crust, pressing firmly to adhere. Bake for 5-7 minutes or until fish flakes easily with a fork.