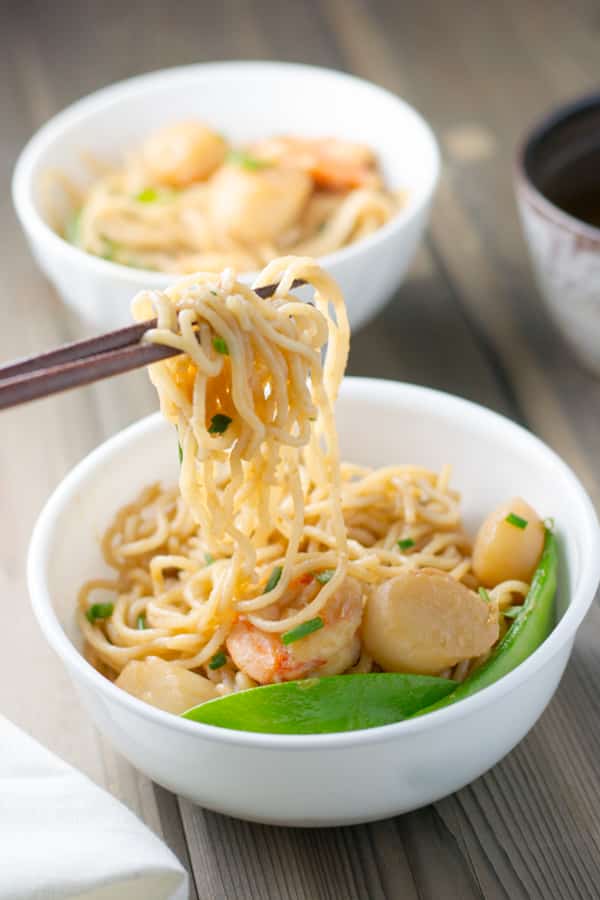 I am so glad it's the weekend. Going back to work after being off for two weeks is always hard especially after the Christmas break. It was a great two week break though. My family was complete and we got to spend quality times together. We watched movies, played board games, went shopping and even cooked some food together. Christmas day was busy. We went to two Christmas dinners and ate so much. New Year's Day was the opposite, it was a quiet one. Dinner was just our family and my oldest son's fiancée. It was a simple meal of shabu-shabu style soup, steamed fish and stir-fried scallop and shrimp noodles.  Longevity noodles were used in this recipe but other kinds may be used as well.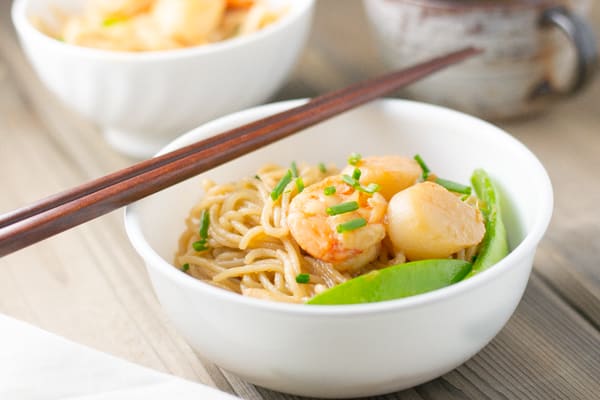 The scallop and shrimp was marinated in a simple mixture of soy sauce, sherry, sesame oil and vegetable oil first and then stir-fried until just cooked through. It was added back to the pan at the last minute of cooking with the stir-fried ginger, garlic, the noodles, chives and the sauce. The result was a delicious and tasty noodle dish that was enjoyed by all.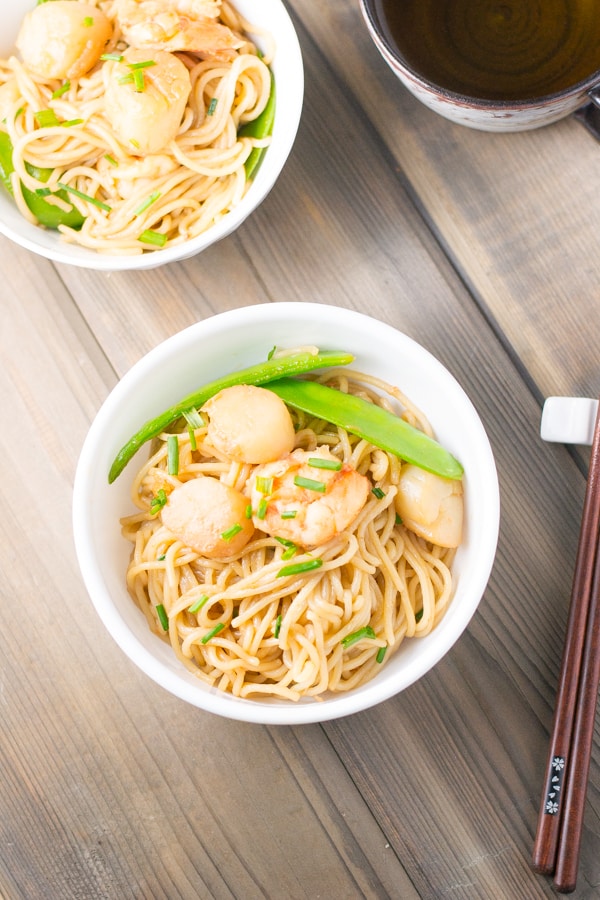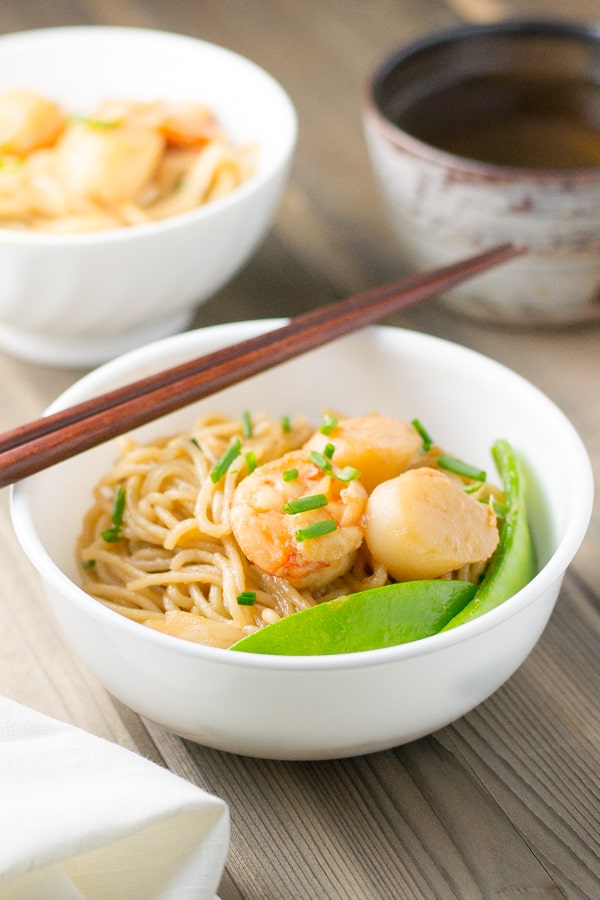 Scallop and Shrimp Noodles
Ingredients
1 tsp soy sauce
1 tsp dry sherry
½ tsp sesame oil
3 tbsp vegetable oil, divided
1 lb scallops
1 lb shrimps, peeled and deveined
10.5 oz (300 g) fresh or dried longevity noodles (or your favorite noodles)
Thumb-size piece ginger, grated
2 cloves garlic, grated
8 oz snow peas, trimmed
2 tbsp chopped fresh chives
Sauce:
3½ tsp soy sauce
2 tsp dry sherry
½ tsp sesame oil
2 tbsp oyster sauce
2 tsp cornstarch
½ cup water
Instructions
In a small bowl, whisk together ingredients for the sauce. Set aside.
In a medium bowl, combine 1 teaspoon soy sauce, 1 teaspoon sherry, ½ teaspoon sesame oil and 1 tablespoon vegetable oil. Add scallops and shrimps and gently toss to combine. Set aside.
Cook noodles according to package direction. Drain.
Heat a 12-inch skillet or wok over high heat. Add 1 tablespoon vegetable oil; stir-fry the seafood for 3-5 minutes or until just cooked through. Transfer to a bowl.
Wipe wok clean and add remaining 1 tablespoon vegetable oil. Add ginger, garlic and snow peas and stir-fry over high heat for 2 minutes. Add seafood (with juices) and sauce mixture and bring to a boil. Add noodles and chives and toss to combine.
Serve and enjoy!