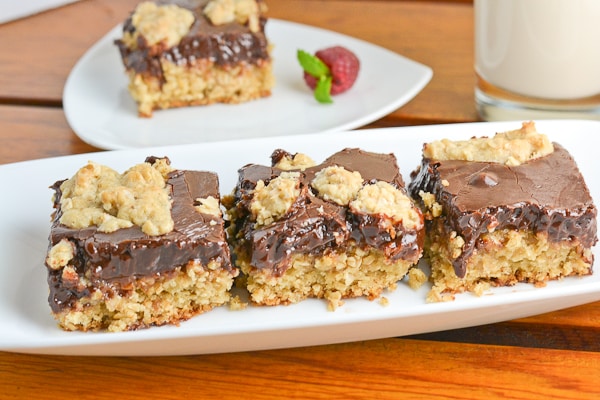 My co-worker brought these oat fudge bars for treat day at work one day. Everyone was raving about how good they were.  They looked like the ones from Starbucks and everyone thought they were store bought. My co-worker insisted they were homemade and showed the baking pan as proof. I had the chance to make them on the weekend and shared them with my family. They were rich and decadent.  The taste of oats and chocolately goodness in every bite brought a big smile on my face. I took some to work today and shared them with few friends. Enjoy!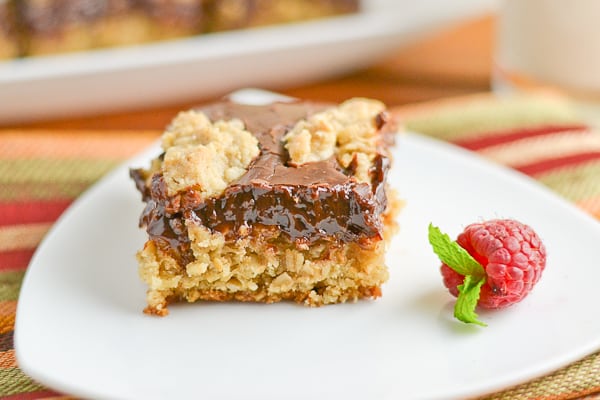 Oat Fudge Bars
Ingredients
1½ cups butter, softened, divided
¾ cup sugar
1¼ cup brown sugar
2 eggs
2 cups all-purpose flour
1 tsp baking soda
1 tsp salt
3 cups oats
1 cup sweetened condensed milk
2 cups chocolate chips
1 tsp vanilla
Instructions
Preheat oven to 350°F. Spray bottom and sides of 9X13 inch pan with cooking spray.
With an electric mixer with a paddle attachment, cream 1 cup butter with both sugars and the eggs.
In a large bowl, mix the flour, baking soda, salt and oats and add slowly to the creamed mixture.
Spread three-quarters of the batter into the prepared pan, pressing down dough evenly with wet hands. Reserve the remainder of dough for topping.
Combine condensed milk, chocolate chips, the remaining ½ cup of butter and vanilla in a microwave safe bowl; melt in the microwave, stirring often to prevent scorching. Stir until smooth and pour chocolate mixture over dough in pan.
Drop the remainder of oat mixture by spoonfuls on top - press down slightly.
Bake for 25-30 minutes, or until top is lightly browned (chocolate mixture will still be moist but will set or harden as it cools down). Let cool completely before cutting and serving.