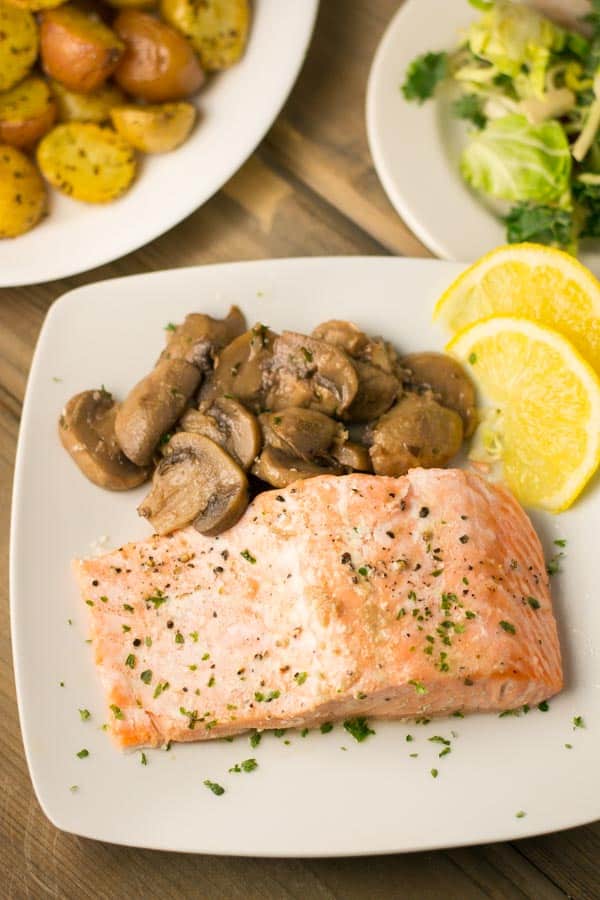 This method of cooking salmon is unique. In this oven steamed salmon recipe, the salmon is cooked by steaming it in the oven. This is done by filling up a roasting pan with boiling water and then placed in the lower rack of the oven. The salmon which was simply seasoned with salt and pepper and placed on a foil-lined baking sheet was then baked in the oven for 10 minutes.  Cooking time may varies, depending on the size and thickness of the salmon. It was served with one of my favorite sides, sautéed mushrooms.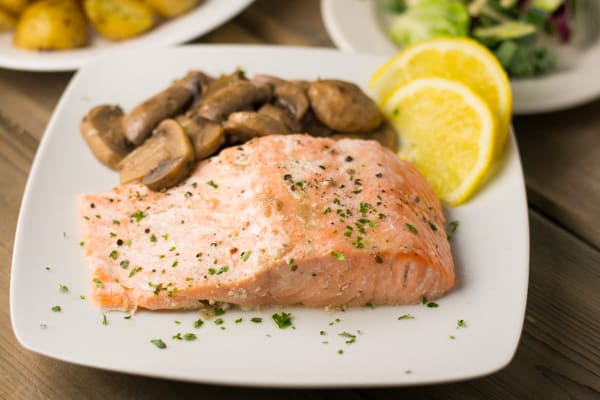 Oven Steamed Salmon with Mushrooms
Ingredients
4 skinless salmon fillets
2 tbsp olive oil plus more for greasing
Salt and freshly ground pepper
1 ½ lb white button mushrooms, rinsed briefly and wiped dry
2 shallots, minced
4 garlic cloves, grated or minced
2 tsp chopped fresh thyme or ½ tsp dried
¼ cup dry red wine
Instructions
Preheat oven to 300 degrees F. Line a baking sheet with foil and lightly oil the foil.
Place salmon fillets on prepared baking sheet; season with salt and pepper. Fill a roasting pan with boiling water and place it on the lowest rack of the oven.
Place the salmon in the oven and bake for 10- 20 minutes or until fish flakes easily with a fork. Cooking time may varies, depending on the size of the fillets.
Meanwhile, heat a skillet over medium-high heat and add 2 tablespoons of olive oil. Add the mushrooms and cook, stirring until the mushrooms begin to soften. Add shallots, garlic, thyme, salt and pepper; stir and cook on medium heat from 1 to 2 minutes or until shallot has softened. Add the wine and cook, stirring often and scraping the bottom of pan, until the wine has just about evaporated. Adjust seasonings. Remove from heat.
Serve the salmon with a spoonful of sautéed mushrooms on top or on the side.