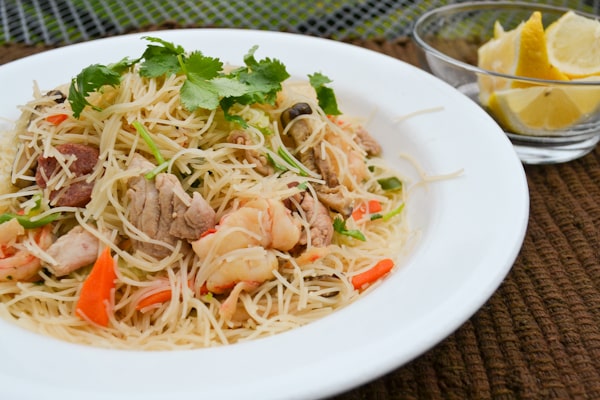 Pancit bihon is a popular Filipino noodle dish with meat and vegetables. Whenever there is a birthday party, someone in my family will always make this dish or pancit canton. We like to eat this delicious noodle dish with freshly squeezed lemon.
What is Pancit Bihon?
Pancit bihon is a popular Filipino noodle dish. Introduced by the Chinese, meat, vegetables and rice noodles make up this delicious dish. Soy sauce or fish sauce is used to season the dish. Furthermore, pork, chicken, shrimp and/or Chinese sausage are some of the types of proteins in pancit bihon. Additionally, carrots, cabbage, green beans, celery and dried Chinese mushrooms are some of the vegetables in this dish.
Pancit bihon is commonly served on any Filipino or Chinese birthday celebration. Furthermore, it is a belief that noodles symbolize long life hence a person should eat noodles on his/her birthday.
Ingredients
The following are the ingredients in my version of pancit bihon.
Dried vermicelli rice noodles
Protein – I use three different proteins. Something for everybody!
Pork Tenderloin
Shrimp
Chinese Sausage – if you can't get Chinese sausage, you can use any other sausage such as chorizo.
Vegetables – I like to use the following 4 vegetables
Shiitake mushrooms
Carrots
Cabbage
Green beans
Others – These ingredients help to add flavor to the dish
Garlic
Shallots
Oyster Sauce
Soy Sauce
Cilantro
Lemon – We love to eat this with some freshly squeezed lemon when serving.
How to make Pancit bihon
To make pancit bihon, first soak the dried vermicelli in warm water and drain. Then, prepare the shiitake mushrooms by hydrating them with water. After that, boil the shrimp shells and head for 2 minutes, making sure to reserve the boiling liquid. After that, fully cook the three proteins in a large pan with the garlic. Add the shallots, all of the vegetables and the shrimp broth to the pan, bring to a boil and simmer for 3 minutes. Finally, add the vermicelli, soy sauce, oyster sauce and cilantro. Mix everything well and serve with freshly squeezed lemon.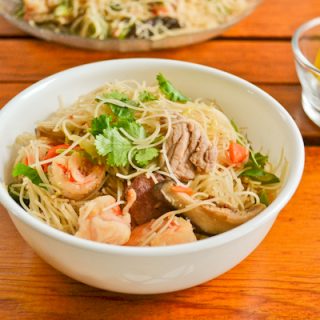 Pancit Bihon (Filipino Noodles)
Pancit bihon is a popular Filipino noodle dish. This version has pork, shrimp and Chinese sausage so it is packed with a lot of flavor.
Ingredients
1

lb

dried rice vermicelli

,soaked in warm water for 15 minutes and drained

½

lb

pork tenderloin

,cut into strips

½

lb

shrimp

2

pieces

Chinese sausage

,cut into ¼ inch pieces

6

pieces

dried shiitake mushrooms

1

medium carrot

,cut into strips

1 ½

cups

cabbage

,shredded

1 ½

cups

green beans

,cut into small diagonal pieces

2

tablespoons

olive oil

2

cloves

garlic

,chopped

1

shallot

,chopped

2

tablespoons

oyster sauce

3

tablespoons

soy sauce

3

tablespoons

fresh chopped cilantro

Salt and pepper to taste
Instructions
Cover mushrooms with hot water and let stand for 20 minutes. Drain, remove the stems and sliced the caps. Set aside.

Peel and devein the shrimps. Put the heads, tails and shells in a saucepan. Add 1 cup water to the pan, bring to the boil, reduce heat and let simmer for 2 minutes. Strain the liquid and set aside.

Sauté garlic in 1 tablespoon hot oil in a large skillet for 2 minutes. Add pork,sausage and shrimps; cook for 3 more minutes or until just cooked. Season with 1 tablespoon soy sauce. Remove from skillet.

Using the same skillet, heat another tablespoon oil. Add the shallot and stir fry for a minute and then add the carrots, mushrooms, green beans and cabbage. Add reserved shrimp broth; bring to the boil, cover and let simmer for 3 minutes.

Add the vermicelli, 2 tablespoons soy sauce and 2 tablespoons oyster sauce; toss using two wooden spoons.

Add pork mixture and chopped cilantro; continue tossing until mixtures are well blended. Season with salt and pepper to taste.

Serve and enjoy!
Nutrition
Calories:
326
kcal
Carbohydrates:
52
g
Protein:
15
g
Fat:
5
g
Saturated Fat:
1
g
Cholesterol:
90
mg
Sodium:
851
mg
Potassium:
278
mg
Fiber:
2
g
Sugar:
2
g
Vitamin A:
1439
IU
Vitamin C:
9
mg
Calcium:
73
mg
Iron:
2
mg
Nutrition Facts
Pancit Bihon (Filipino Noodles)
Amount Per Serving
Calories 326
Calories from Fat 45
% Daily Value*
Fat 5g8%
Cholesterol 90mg30%
Sodium 851mg37%
Potassium 278mg8%
Carbohydrates 52g17%
Protein 15g30%
Vitamin A 1439IU29%
Vitamin C 9mg11%
Calcium 73mg7%
Iron 2mg11%
* Percent Daily Values are based on a 2000 calorie diet.