It was the Halloween weekend. My oldest son and I scoured stores in our city to look for Halloween costumes. It was raining, parking was difficult and there was traffic everywhere. I wasn't surprise when my son bought a zombie costume; he likes to watch shows and movies about zombies. For myself, I bought a Gothic priestess costume and some Halloween baking cups. I decided to use it to make peanut butter banana muffins.  To make it even better, I decided to add my favorite nut: pecans.
The muffins turned out not too sweet. I can definitely smell and taste the peanut butter as I take a bite into it.  It is good when eaten hot and it goes well with coffee or milk 🙂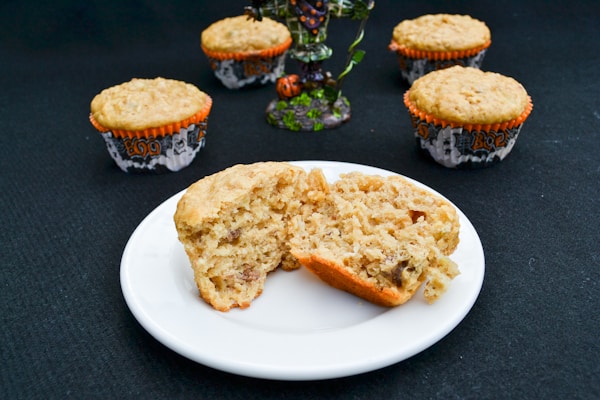 Peanut Butter Banana Nut Muffins
Serves:
Yields 10 medium muffins
Ingredients
1 cup flour
¾ cup quick-cooking oats
½ cup sugar
1 tablespoon baking powder
½ teaspoon salt
½ cup smooth peanut butter
1 cup milk
½ cup mashed fully ripe bananas
1 egg, lightly beaten
2 tablespoons vegetable oil
1 teaspoon vanilla
¼ cup chopped pecans or walnuts (optional)
Instructions
Preheat oven to 375°F.
In a large bowl, combine flour, oats, sugar, baking powder and salt. Set aside.
In a medium bowl, whisk peanut butter and milk until blended. Stir in bananas, egg, oil and vanilla.
Add banana mixture to dry ingredients; stir just until moistened. Fold in nuts.
Spoon into muffin tins lined with baking cups or greased muffin tins.
Bake 20-25 minutes or until toothpicks inserted in centers come out clean. Let cool for 10 minutes before removing from tins.
Serve and enjoy!
Notes
Recipe adapted from Kraft Canada.