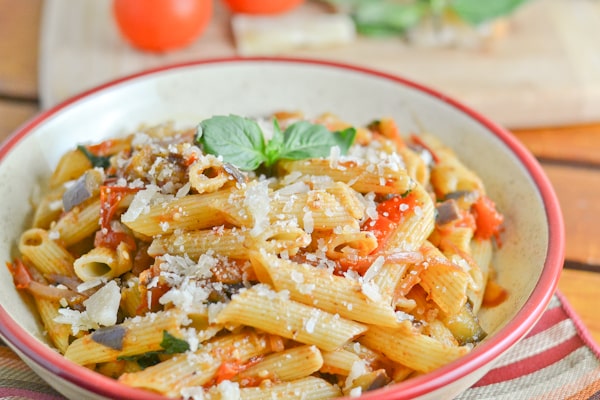 My youngest son and I love pasta dishes. We specifically love this pasta recipe because it is not only a vegetarian dish but it also consists some of our favorite vegetables and herb: eggplant, tomato and basil.  Tomato and basil are such an incredible combo; I frequently use them in my cooking. This pasta dish is so simple and yet satisfyingly good.  Yummy!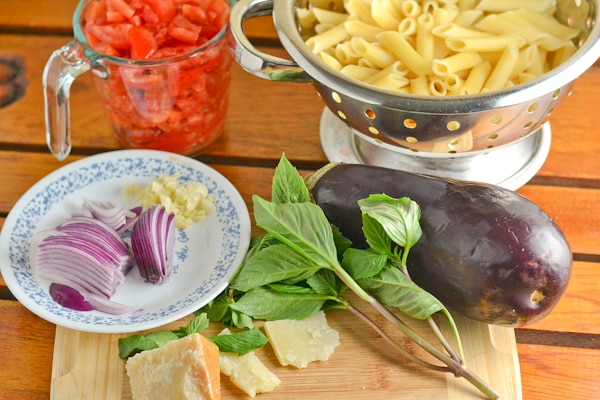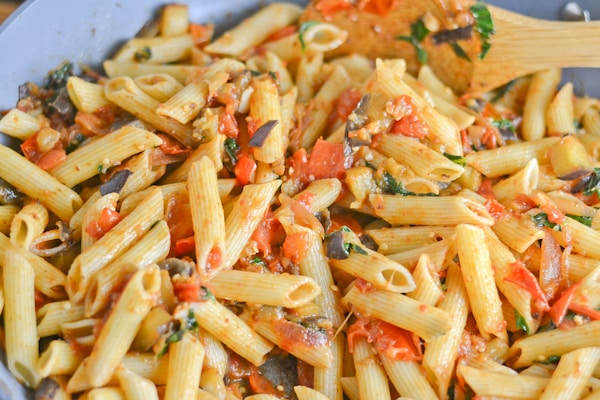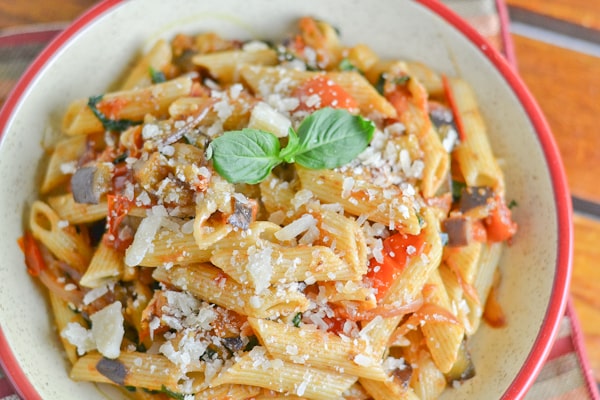 Penne with Eggplant, Tomato & Basil
Ingredients
¼ cup plus 2 tbsp extra-virgin olive oil
1 medium eggplant, cut into ¼-inch dice (about 6 cups)
Kosher salt
1 small red onion, thinly sliced
¼ tsp. crushed red pepper flakes
1-1/4 lb. tomatoes, seeded and cut into ½-inch chunks (about 2-1/3 cups)
3 medium cloves garlic, finely chopped
1 cup roughly chopped fresh basil
¾ lb. dried penne rigate
½ cup coarsely grated Parmigiano Reggiano
Instructions
Bring a large pot of well-salted water to a boil.
Heat ¼ cup of the oil in a 12-inch skillet over high heat. Add the eggplant and a generous pinch of salt. Reduce the heat to medium high and cook, stirring occasionally, until the eggplant is tender and light golden brown, about 6 minutes. Transfer to a plate.
Reduce the heat to medium, return the pan to the stove, and add the remaining 2 tbsp oil, onion, red pepper flakes, and a pinch of salt. Cook until onion is tender and golden brown, about 6 minutes.
Add tomatoes and another pinch of salt, and cook until tomatoes start to break down and form a sauce, about 3 minutes.
Add garlic and cook for 1 minute. Return eggplant to the pan, add the basil, and cook for another minute. Season with salt to taste.
Cook the pasta in the boiling water until al dente. Reserve a small amount of the cooking water and drain the pasta. Put the pasta in a large bowl and toss with the eggplant mixture. If the pasta needs a little more moisture, add a splash of the pasta water. Season with salt to taste.
Serve with a drizzle of oil and a sprinkle of Parmigiano.