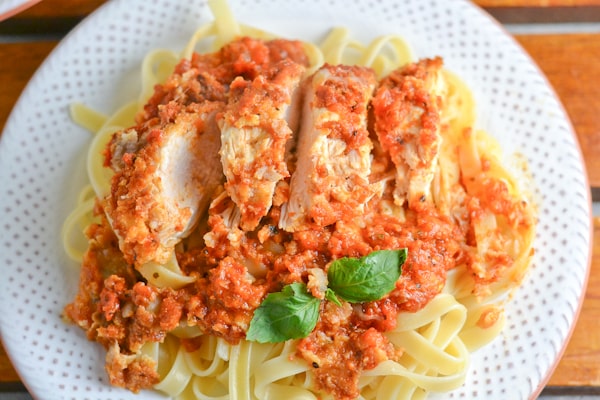 I made this simple and easy marinara sauce which my family and I love so much. We make use of it in many different ways, one of which is in chicken parmesan.  Chicken parmesan is a savory dish which consists of chicken breasts that are first dipped in flour, then in beaten eggs and lastly, coated with a mixture goodness of panko crumbs, parmesan cheese, salt, pepper and basil. They are then browned and baked in marinara sauce. The chicken pieces turned out tender, moist and satisfying delicious. The layers of flavors in this tasty dish delights the senses.  I am so glad that I made this chicken parmesan dish. It will definitely be in our family's list of favorite dishes. Enjoy!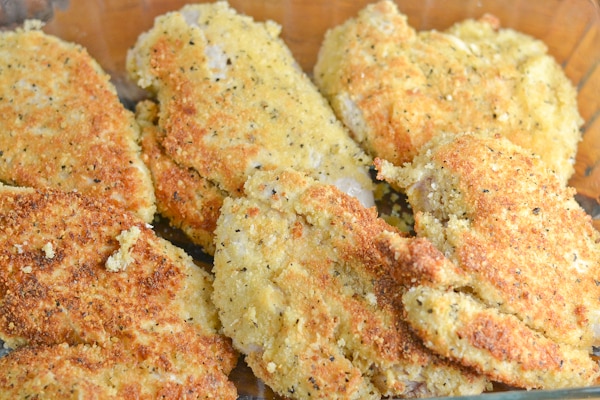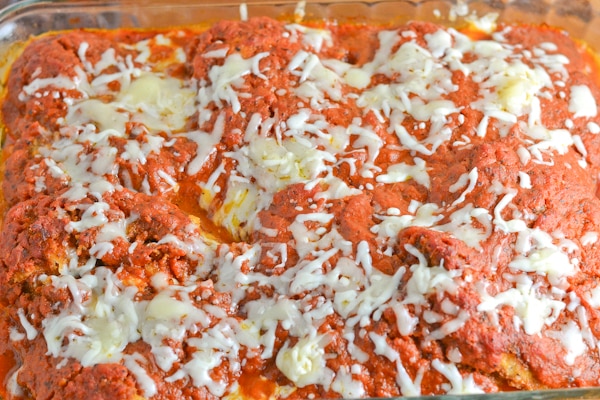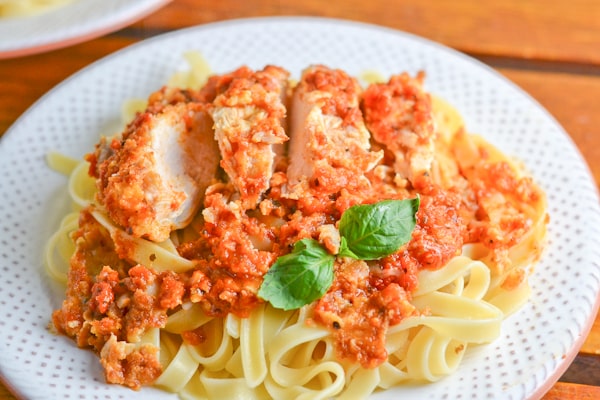 Chicken Parmesan
Ingredients
½ cup olive oil
4 tbsp flour
3 eggs, beaten
3 cups Panko bread crumbs
1 cup grated Parmesan cheese
2 tbsp salt
1 tsp pepper
1 tbsp dried basil
6 medium boneless chicken breast
¼ cup grated mozzarella cheese
½ cup grated provolone cheese
1 package fettuccine, cooked according to package directions and drained
4 cups store bought or Homemade Marinara sauce
Instructions
Preheat oven to 400 degrees F.
Spray a 9x13 inch baking dish with cooking spray.
In a large skillet, heat oil on medium heat.
On a shallow plate, spread out flour. Set aside.
In a shallow bowl, beat eggs with a fork. Set aside
In a deep dish, combine Panko crumbs, Parmesan cheese, salt, pepper and basil.
Dip and coat chicken in the flour and then in the egg mixture, shaking of excess egg.
Next, dip chicken into the Panko mixture.
After dipping, place chicken into the hot oil. Cook chicken for 2 minutes on each side and then transfer to the 9x13 baking dish.
Pour marinara sauce over chicken and bake for about 20 minutes or until chicken is cooked.
In a small bowl, mix together provolone cheese and mozzarella cheese. Sprinkle over chicken and then continue baking for another couple of minutes or until cheese has melted.
Serve over your favorite pasta.