I have left-over pesto from last week's Baked Marinated Salmon Fillet. My youngest son and I decided to use it for making pizza. For the dough, I used my favorite recipe Valentino pizza crust recipe, which uses olive oil and has only 10 minutes of rising time. This pesto pizza is very simple and uses a few ingredients; shrimp, sun dried tomatoes and mozzarella cheese. The combination of the pesto and shrimp gave this incredible smell as I was baking it.  Eating it was incredible, as well 😀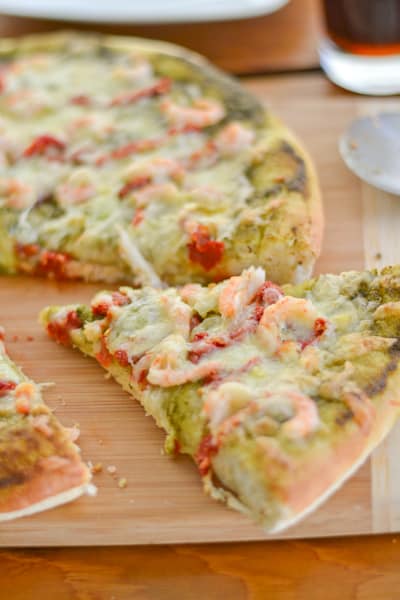 Pesto Pizza with Shrimp and Sun Dried Tomato
Serves:
8-10 pizza slices
Ingredients
For the dough:
1 cup warm water
1 tablespoon white sugar
2 ¼ teaspoons active dry yeast
3 tablespoons olive oil
1 teaspoon salt
2 ½ cups all-purpose flour
For the toppings:
4 oz small cooked shrimps
6 sun dried tomatoes
2 cups grated mozzarella cheese
Basil Walnut Pesto
2 cups chopped fresh basil
3 garlic cloves
½ cup walnut pieces
½ cup grated Pecorino-Romano cheese
1 teaspoon lemon juice
½ teaspoon salt
⅛ teaspoon freshly ground pepper
¾ cup olive oil
Instructions
Soak the sun dried tomatoes in hot water for 15 minutes. Drain, squeeze out excess water and sliced thinly. Set aside.
Prepare the pesto sauce. Place basil, garlic, walnuts, cheese, lemon juice, salt and pepper in a blender or food processor. Process until coarsely chopped, then gradually add oil in a slow, steady stream, until emulsified and smooth. Set aside.
Stir warm water, sugar and yeast until dissolved. Add the olive oil and salt. Stir in the flour until well blended. Let dough rise for 10 minutes.
Place and shape dough on a 12-inch pizza pan. Spread ⅓ cup pesto over the dough; sprinkle a cup of the cheese.
Arrange the sun dried tomatoes and shrimps evenly on top and finally sprinkle the remaining cup of cheese.
Bake at 425°F oven for 20-25 minutes or until the edge is crisp and golden.
Serve and enjoy!