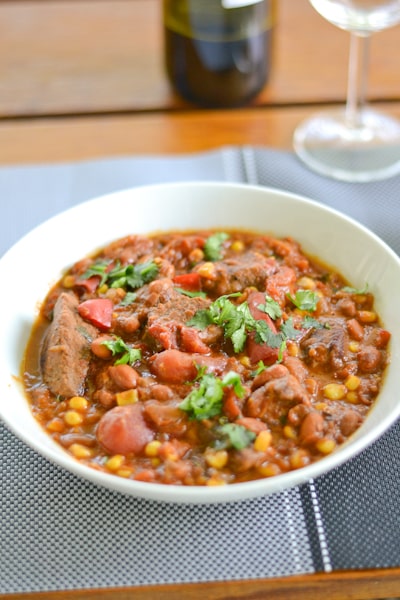 I love making beef stew because it is a hearty dish and an excellent lunch to take to work. I found this recipe from a cookbook I frequently refer to if I need new recipes to make. It is different from the usual beef stew I normally cook for my family.  It does not have the usual ingredients that I know beef stew usually has. Instead of potatoes and carrots, this recipe uses beans, corn and cilantro. Furthermore it uses jalapeno and chili powder, thus making this dish spicy. I am not a big fan of spicy food so I omitted the jalapeno and reduced the amount of chili powder in the dish. Other than that, I love this dish especially when the meat is melt-in-your-mouth tender after more than an hour of simmering. The addition of my favorite pinto beans and corn make this beef stew very delicious and satisfying. 😀

Southwestern Beef Stew
Ingredients
2 lb stewing beef, cubed
4 tablespoons vegetable oil
½ teaspoon salt
¼ teaspoon ground pepper
2 onions, peeled and thinly sliced
1 whole head of garlic, peeled
2 red bell peppers, seeded and cut into chunks
1 to 2 tablespoons chili powder (I only used 1 tablespoon)
1 28 oz can of whole tomatoes
1 18 oz (540ml) can of pinto beans, drained and rinsed
1cup frozen kernel corn
1 bunch cilantro, chopped
1 or 2 jalapeno peppers, seeded and minced (optional)
Instructions
Season the beef pieces with salt and pepper. In a Dutch oven, heat oil over medium high heat. Brown beef in batches, adding more oil as needed. Remove and set aside.
In the same pan, add the onions and garlic. Stir well with a wooden spoon, scraping any brown bits from the bottom of the pan. Continue cooking until the onions are golden brown.
Add the red bell pepper and jalapeno, if using. Stir in the chili powder, canned tomatoes, beans and the browned beef.
Stir well and bring to a simmer. Cover with a lid and continue at a low simmer over low heat for an hour or so.
Stir in the frozen corn and chopped cilantro. Taste and season with salt and pepper, if needed.
Serve and enjoy!
Notes
Recipe adapted from the cookbook "The Best of Chef at Home".