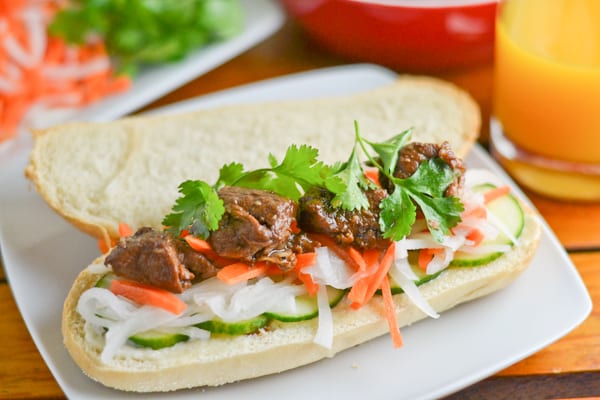 These past few days, Vancouver has had really nice and sunny weather. My husband and I have been spending more time in the garden under the shade of our trellis. We were reading out in the garden, enjoying the breeze, when we heard a couple of robins chirping around us. That's when we noticed that the robins had settled a nest on top of our trellis! We managed to get a better look of the robin's nest from our deck and when the robins were away from the nest, we could see their bright blue eggs. I took pictures of the blue eggs but the honeysuckles and clematis were in the way and just a part of the egg can be seen. It was a beautiful sight to behold! I am glad these wonderful creatures have found a safe and secure place in our garden!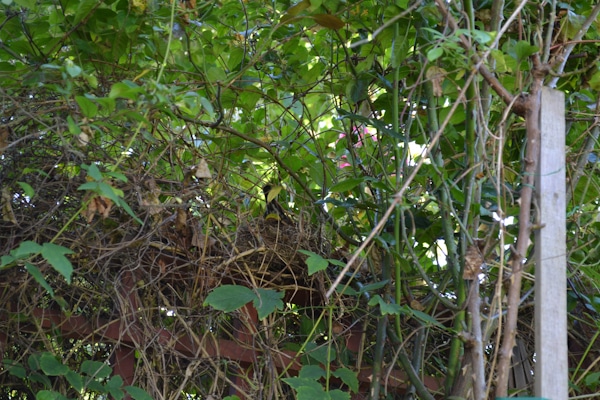 My family and I have been having light meals during these hot sunny days. We either have salads or sandwiches and lots of watermelon to cool us off. Last Sunday, I decided to make banh mi for dinner. Banh mi is a Vietnamese sandwich typically filled with cold cuts or meat and topped with sliced cucumber, cilantro, pickled shredded carrots and daikon.  In this recipe,  banh mi was given a Filipino twist. The baguette was filled with pork adobo and then topped with the usual vegetables. Mayonnaise was also used in placed of pate. My family and I love these delicious and refreshing pork adobo banh mi sandwiches. Enjoy!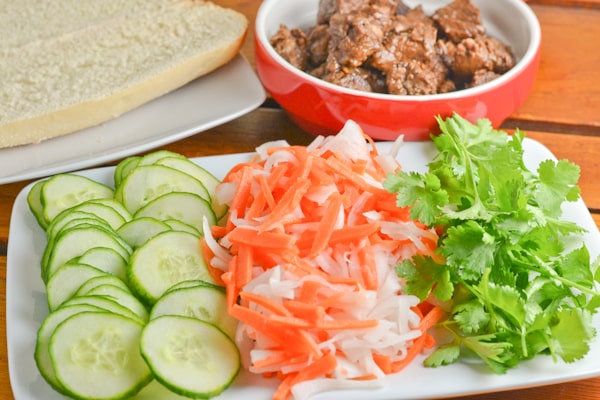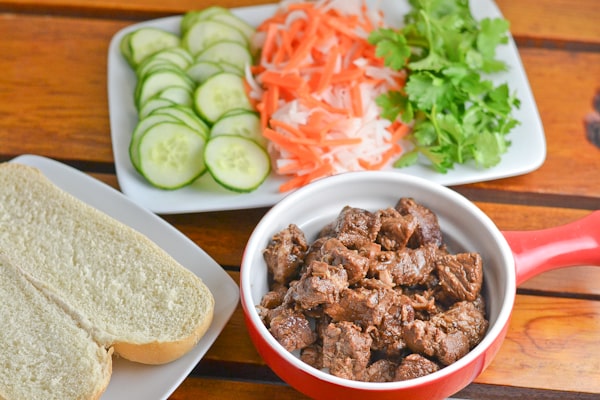 Pork Adobo Banh Mi
Ingredients
2 lbs pork shoulder, cut into bite-size pieces
2 tbsp vegetable oil
3 cloves garlic, chopped
⅓ cup soy sauce (I used China Lily brand)
⅓ cup vinegar
1 bay leaf
½ tsp freshly ground pepper
1 cup water or more as needed
1 tbsp honey or brown sugar
Pickled carrots and daikon (radish):
1 cup carrot, peeled and cut into thick matchsticks
1 cup daikons, peeled and cut into thick matchsticks
½ cup vinegar
½ cup sugar
1 tsp salt
Sandwiches:
4 (6-inch) baguettes
Mayonnaise
1 English cucumber, sliced thinly
Fresh cilantro sprigs
Instructions
Make the pork adobo:
Heat oil in a large skillet; rotate to coat sides of skillet. Add pork pieces and cook until meat is browned.
Add garlic and sauté for a minute. Add soy sauce, vinegar, bay leaf, pepper and water.
Bring to a boil, reduce heat and simmer for 45 minutes or until pork are tender. (Watch it carefully. Don't let it dry out.) Add water ½ cup at a time several times until pork meats are tender and desired amount of sauce has been reached. Stir in honey or brown sugar. Remove from heat and set aside.
Make the pickled carrots/daikon:
In a saucepan, combine vinegar, sugar and salt. Boil until sugar and salt are dissolved. Remove from heat; add carrots and daikon. Let the mixture marinate for at least 1 hour. Drain well and set aside.
Assemble the sandwiches:
If desired, toast the baguettes in toaster oven. Slice the baguettes lengthwise. Spread each half of the baguettes with mayonnaise, and then top with sliced cucumber, pickled carrots/daikon , pieces of pork adobo, and cilantro leaves. Drizzle with adobo sauce and close with the other half of the baguettes.
Serve and enjoy!