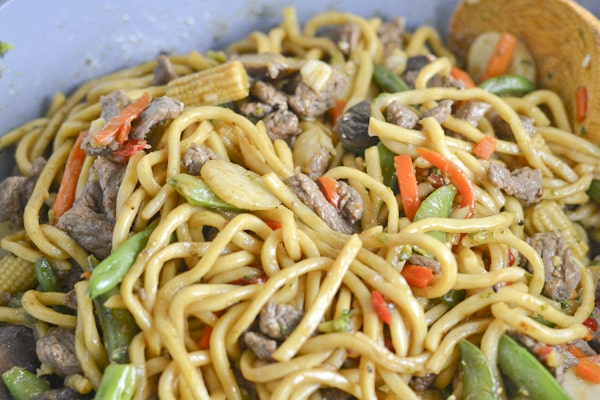 I recently bought this package of frozen vegetables from the freezer section at Costco. I bought it because it contains some of my favorite vegetables like broccoli, snow peas, water chestnuts and shitake mushrooms. I have been using it since then because I find it a cheaper and convenient way to enjoy mixed vegetables. I have used it so many times; it is always in my biweekly shopping list. Sometimes I just stir-fry it as is or add chicken, pork or beef as the main protein. In this recipe, I used inside round steak and added shanghai noodles as well. This recipe is so flexible, you can use any kind of steak, mixed vegetables and noodles. It is an easy meal to whip up on a busy weekday without much effort. Enjoy!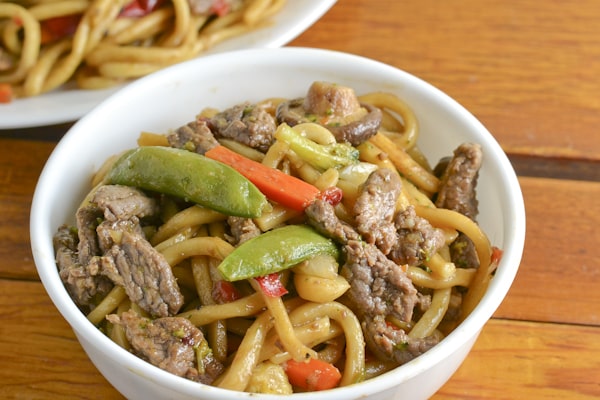 Beef Noodle Stir Fry with Mixed Vegetables
Ingredients
1 (600g) packaged fresh shanghai noodles or your favorite noodles
1 lb inside round steak, sliced across the grain into strips
4 tbsp olive oil, divided
2 cups frozen mixed vegetables of your choice
2-4 tbsp oyster sauce
1 tbsp sesame oil
Sea salt and pepper to taste
Instructions
Cook noodles according to package direction. Drain and set aside.
Season beef strips with salt and pepper.
Heat wok or skillet over medium high heat. Add 2 tbsp olive oil; swirl to coat sides of skillet. Add beef and stir-fry for 5 minutes or until juice from beef has evaporated and beef is browned. Transfer beef to a plate and set aside.
Using the same skillet, add remaining 2 tbsp olive oil. Add frozen mixed vegetables; stir-fry for 8-10 minutes or until vegetables are cooked.
Add browned beef, noodles, oyster sauce and sesame oil; stir until heated through. Season with salt and pepper to taste.
Serve and enjoy!