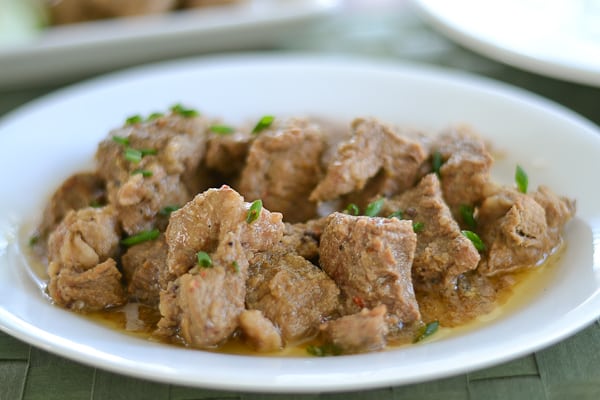 My family loves Indian food. Samosa, vindaloo, akni and biryani are some of our favorites. I have always wanted to make them at home but it is so hard to find simple Indian recipes. Last month, I was watching a TV show where food from all over the world is being featured. It led me to a site that has Indian recipes that have familiar ingredients and easy to follow instructions. I don't mind the long list of ingredients because I have used them before and I have them in my pantry. I don't own a spice grinder so I used a mortar and pestle instead. The aroma of the freshly ground spices in my kitchen were incredible.  If you have time, marinate the pork pieces with the paste mixture and you will be rewarded with a very tasty and flavorful pork vindaloo.  I am so glad I tried this recipe; my family truly enjoyed this wonderful dish. I am planning to make more Indian dishes so it's about time I invest on a spice grinder.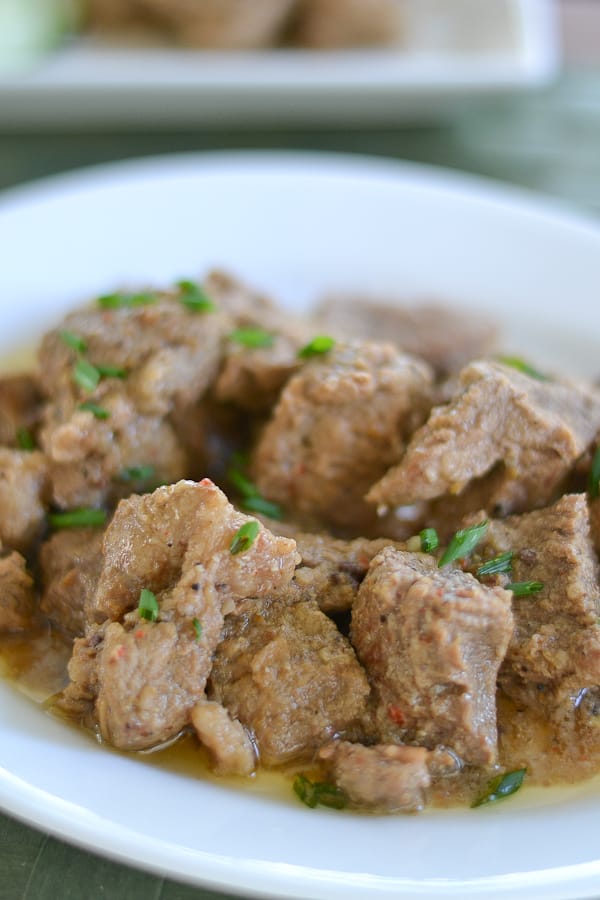 Pork Vindaloo
Ingredients
1 tsp cumin seeds
1 tsp coriander seeds
5 black peppercorns, left whole
2 green cardamom pods, seeds only
2 cloves
½ in piece cinnamon
½ in piece ginger, peeled and chopped
7 garlic cloves, peeled and left whole
3 fresh red chillies
3 tbsp white wine vinegar
Pinch salt
1 lb pork shoulder butt, cut in cubes
4 tbsp vegetable oil
1 small onion, chopped
Instructions
Using a spice grinder, grind the cumin seeds, coriander seeds, peppercorns, cardamom seeds, cloves and cinnamon to a fine powder.
In a food processor, blend the ginger, garlic, chillies and white wine vinegar to a paste.
Mix the ground spice mixture with the paste until well combined and season with a pinch of salt. Rub the mixture all over the pork using your fingers, then set the pork aside, covered, to marinate for 1½-2 hours. (You may skip the marinating if pressed for time)
Heat the oil in a non-stick pan. When the oil is hot, add the onion and fry for 3-4 minutes, or until golden-brown.
Add the marinated pork pieces and fry for 6-7 minutes, turning once, until golden-brown on all sides. Reduce the heat to low, cover the pan with a lid and cook for 50-55 minutes, stirring occasionally, or until the pork is tender. Add small splashes of boiling water to the pan as necessary if the juices in the pan dry out. Add as little water as possible as the resulting sauce should be quite thick.
Serve with steamed rice and enjoy!