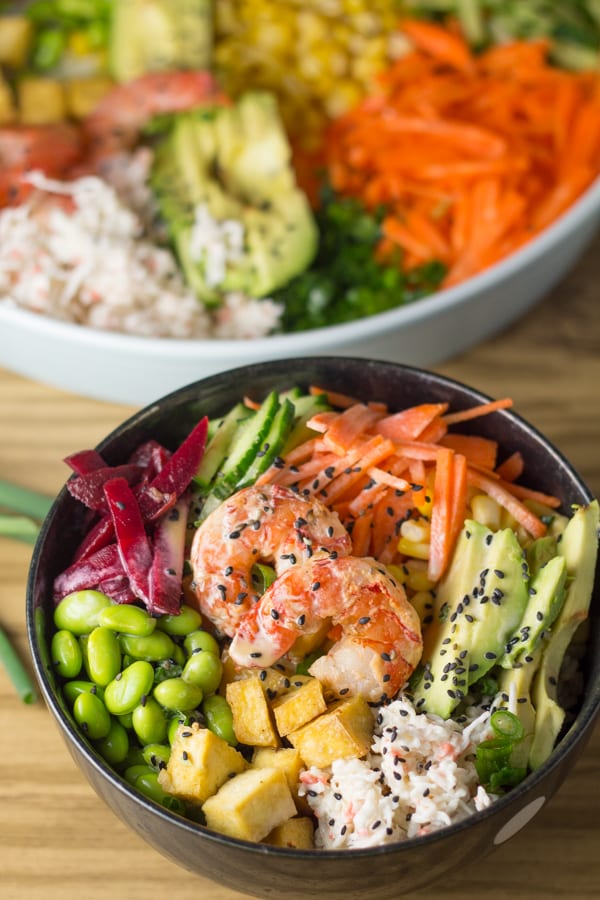 Poke bowl originally consists of cubes of raw fish served in a bowl with rice, vegetables, and dressing. It is so popular; others are customizing it to their needs by replacing the raw fish with other proteins. I remember trying this dish for the first time in Hawaii with my family when we went there for a vacation. Since then, I have been trying poke bowl whenever it is in any restaurant's menu. Early this week, I tried making it at home. I ended up with making this prawn and tofu poke bowl.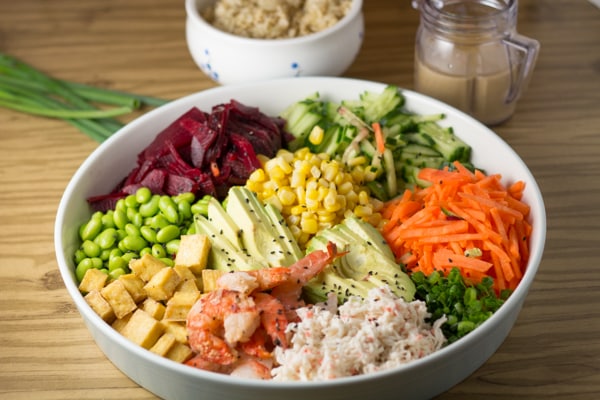 In this poke bowl recipe, I use shrimp, tofu and since I love imitation crab meat in California roll, I added that as well. I decided to cook the prawn and tofu in the air fryer to make it healthier. The hardest part of making this dish is cutting and preparing the toppings. Other than that, it was easy to make. When assembled, the poke bowl looks colorful and appetizing. It is worth the time spent cutting and preparing the ingredients. The dressing mixture of sesame oil, soy sauce, honey, rice vinegar and kewpie mayo were very flavorful. It was a perfect combination of sweetness, tanginess, and saltiness. It what makes this poke bowl an incredible meal!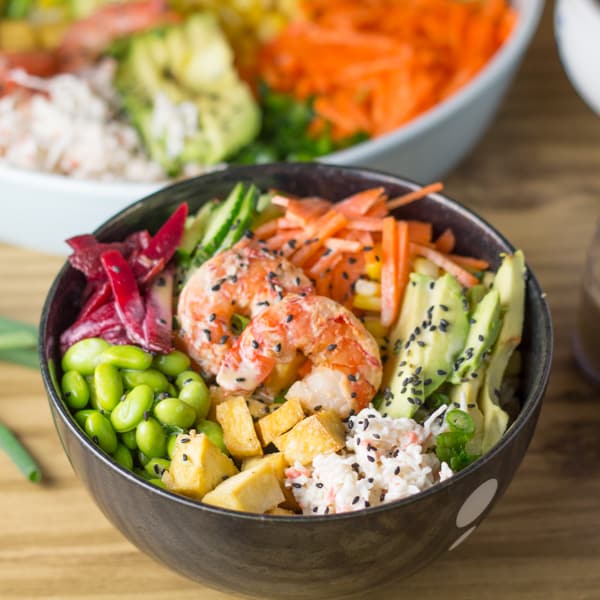 INGREDIENTS:
Prawn, tofu and crab meat– the proteins used in this recipe. They add flavors, texture and nice taste to this recipe.
Toppings: whole kernel corn, edamame, carrots, beets, cucumber, avocado – collectively, add texture and appeal to this recipe.
Dressing: sesame oil, soy sauce, honey, rice vinegar, kewpie mayo – is packed with umami flavors and what binds the ingredients together.
Garnishes: green onions, black sesame seeds – add a nice visual to this recipe.
HOW TO MAKE THIS PRAWN AND TOFU POKE BOWL:
To make prawn and tofu poke bowl, first cook the seasoned prawn and tofu in an air fryer. Prepare the dressing by combining the sesame oil, soy sauce, honey, rice vinegar and mayo. Whisk the mixture thoroughly until smooth. Finally, assemble the poke bowl by placing some rice in a bowl. Top with the prawn, crab meat, tofu and vegetables. Sprinkle with the black sesame seeds and sliced green onions. Drizzle with the dressing.
TIPS:
You can customize your poke bowl by choosing what protein and toppings to use. Other recommended toppings are mango, cherry tomatoes, seaweed salad, dried seaweed, pickled ginger.
Brown rice is used in this poke bowl recipe. White rice or other kind of rice may also be used.
A mixture of rice and mixed greens may be used as the base for the poke bowl.
I used imitation crab meat in this recipe but feel free to use the meat from a real crab.
Prawn and Tofu Poke Bowl
This prawn and tofu poke bowl consists of prawn, tofu, crab, avocado, edamame and other toppings and dressed with a creamy tangy sauce.
Ingredients
½

lb

prawn

, peeled and deveined

½

lb

firm tofu

, drained and cubed

Salt and pepper

½

lb

flaked imitation crab meat

4

cups

cooked brown rice

, for serving
Toppings:
341

ml

canned whole kernel corn

, drained

8

oz

cooked shelled edamame

1

cup

julienned carrots

1

cup

julienned cooked beets

½

English cucumber

julienned

1

avocado

sliced
Dressing:
2

tbsp

sesame oil

2

tbsp

soy sauce

2

tbsp

honey

2

tbsp

rice vinegar

2

tbsp

kewpie mayonnaise
For Garnish:
Thinly sliced green onions

Roasted black sesame seeds
Instructions
Season the prawn and tofu with salt and pepper. Line them in a single layer on the basket of an air fryer. Cook, in batches at 380 degree F for 10 minutes. Set aside.
Prepare the dressing:
In a bowl, combine together the sesame oil, soy sauce, honey and rice vinegar. Add the kewpie mayonnaise and whisk until smooth. Set aside.
To assemble:
Scoop a cup of rice into a bowl. Top with the prawn, tofu, crab meat and vegetables. Garnish with the black sesame seeds and green onions. Serve with the dressing.
Nutrition
Calories:
765
kcal
Carbohydrates:
95
g
Protein:
35
g
Fat:
28
g
Saturated Fat:
4
g
Polyunsaturated Fat:
11
g
Monounsaturated Fat:
11
g
Trans Fat:
1
g
Cholesterol:
100
mg
Sodium:
1133
mg
Potassium:
1188
mg
Fiber:
13
g
Sugar:
17
g
Vitamin A:
5474
IU
Vitamin C:
15
mg
Calcium:
196
mg
Iron:
5
mg